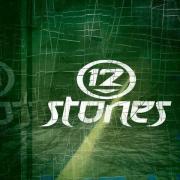 Ever since spiritual rockers Creed hit it big, Wind-Up Records (among other record labels) has pulled every possible trick out of its hat to repeat their phenomenal success. The manufacturing of Creed clones has spawned bands such as Big Dismal, Nickelback, Kutless, and several others. One of those "others" who has garnered a significant amount of attention happens to be 12 Stones, also appropriately signed to Wind-Up, and unlike Creed, they are abashedly unashamed to share their faith. Even if they stand to earn a profit, credit must be given to Wind-Up for signing such an outspoken band.
Although 12 Stones might perform the same style of grunge rock as Creed (dismal guitar chords, incessant and pointless screaming, etc.), calling them just another rip-off would be a mistake. Sound-wise, they're comparable to Puddle of Mudd, the Deftones, and maybe a little Foo Fighters thrown in for good measure. When he wants to, Paul McCoy's vocals resemble Scott Stapp's ("In My Head," "Eric's Song"), but most of the time they radiate with a unique vibrance all their own. The other band members carry with them an organic air as fresh as crisp vegetables. Most notable is Eric Weaver's guitar work on "Home" and "My Life," and the thunderous performance of Aaron Gainer on drums during "Fade Away" and "Soulfire." Disappointingly, Kevin Dorr's bass work was denied any forefront and was sorely underproduced, resulting in only a few honorable mentions on "Eric's Song." For the record, Dorr's performance throughout the rest of the album is outstanding, but the point is that it lacks prominence.
Tracks receiving top honors - or in other words, where the band best works together - include the hardcore mega-hit "Broken," an astral display of 12 Stones's ability to truly function as a unit, "Home," and "Eric's Song," which sounds like Third Day on a really, really good day. As a rocker, "Home" mulls along gracefully until the chorus, at which point it erupts into an angst-filled scream-fest, complete with plenty of guitar thrashing. "Eric's Song" is the last cut on the disc, and satisfyingly, the most upbeat. Instrumental work is rapid, yet steady, and Weaver cuts loose on the guitar solo near the end, bringing the album to a most climactic conclusion.
Perhaps the most exciting thing about 12 Stones is their commitment to spreading the Gospel through their music. For a mainstream band, they accomplish this extremely well, lacing every tune with some kind of spiritual agenda. While some searching must be done in rare instances, most messages stand out like a blatant slap in the face. "Crash" describes God's ever-watchful vigil over His children, no matter how far we fall away from Him; "Broken" is a prayer for the Father to erode our hardened hearts so that we might see the beauty of Christ's death on the cross; and the band commands Satan to "Back Up" on track seven. Using Matthew 7:5 as their support, 12 Stones then lashes back at those who criticize them in "My Life" for the way they look or for how they tour with the secular crowd. The two strongest, most poignant declarations of faith on the project come from "The Way I Feel" and "Soulfire." The first of these two songs acknowledges the sinfulness of human nature ("I know the world is pulling me more and more each day / I feel like the odd man out when I begin to pray") but then rejoices at the fact that Christ is alive and we are indeed forgiven ("You've given me so many things that I've never had / and all in all I know it's You that always pulls me through"). "Heavy worship" is the term that best describes "Soulfire," but the praise is offered sincerely: "You set my soul on fire / you take me so much higher / thank you for it all." Not only is it appropriate but also perfectly sums up the theme of this debut and the band's ministry.
Money-hungry or not, Wind-Up Records discovered a rare quality in 12 Stones. That quality is the ability to be relevant to a mainstream audience while still pushing a strong Christian ministry. Their debut has a few musical pitfalls ("Open Your Eyes," "My Life," "In My Head"), but this is otherwise a brilliant example of artistry and is heads or tails above any of the so-called "clones" out there. In short, these are rocks that cry out.