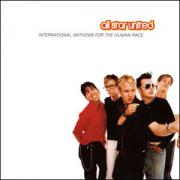 If you've heard ASU's first release , you've already noticed that this is no ordinary Christian rock band. True to their name, All Star United has toured worldwide since their self-titled debut; to Sweden, Russia, Belgium, India...the list goes on. Their sophomore release, International Anthems for the Human Race is a reflection upon those experiences. Once again, Ian Eskelin takes the helm at penning lyrics and singing lead vocals for the eleven tracks (and a few extras) on this excellent follow-up to the band's first album.
Pop in the CD, crank up the volume, and prepare for All Star United's "Big Rock Show." This hard-rocking opener is only less than two minutes in length, but quantity has no effect on quality here. Fans will be able to catch the band's gist in the very last line of the song: "Find the secret message buried in our big rock show." Second on the album comes "Popular Americans", a fun, almost ska-like tune where the band pokes fun not only at themselves, but at the concern of material status and possessions. The title track "International Anthems" follows. This tune features the same guitar driven melody as on "Angels", a hit from ASU's first release, and its lyrics capture the overall theme of the album: "Holy karaoke, prayer in stereo". Track #4, "Thank You, Goodnight", plods along with its sleepy rhythm and all the eloquence of a bedtime prayer, while Track #5, "If We Were Lovers" is a song destined to be misinterpreted. Here, All Star United is not referring to "lovers" as in two star-crossed ones; they refer to the possibilities of a world where everything would be perfect if we all loved each other. Still, the overall tune of the song gives it a romantic effect that would fool the most critical of listeners. Fortunately the next song, "Worldwide Socialites Unite" is a party hit, referring to the too-well-polished manners of the high social class and their ability to tune God out of any conversation. The cut has a fun beat and some zany lyrics to boot. (Where else can you hear words like "Heavens, don't those tarts look pretty?") "I Need You Now" is the album's seventh song; an easy-going, yet modest, passionate cry for God. ASU retrogresses a bit with "Theme From Summer", a song with a musical score that sounds like it came straight from a Beach Boys album. Thankfully, it's not about surfing, but love instead, and it discusses being in a summer mood when you've got a winter attitude (if that makes any sense at all). Track #9, "Everything Will Be Alright" brings ASU a bit forward into the 70's era before progressing back to the 90's, and possibly even into the 21st century, with the next song, "Superstar". "Superstar" was All Star United's first single from International Anthems and found its way to #1 on the Christian music rock charts in less than 3 weeks. It remained there for the same amount of time. The band uses the song to point out who their hero truly is, and with its heavy combination of guitar and synthesizer sound, "Superstar" has remained the favorite tune on this album for most fans. Finally, the real love song on the album, "Put Your Arms Around Me", wraps things up, or does it? Even though no spiritual connotations can be found in the song, that does not make it a secular tune.
At this point, avid listeners will most likely be crying for more from All Star, and it's only suiting that the band give them an encore. Three encores, in fact. Just scan forward after the last song and you'll find the first of three hidden tracks: "Hurricane", sung by the same mysterious lady who sings the "Vitamins" tune from the first All Star United album. Immediately following this comes ASU's own "Elvis Remix" of the previous song. If that isn't enough to get fans drooling with excitement, scanning forward even more will reveal the third and final hidden track on the CD (finally)! This song is also entitled "International Anthems for the Human Race". No, there's nothing wrong with your CD player. It is not in super fast mode, and it is not skipping on accident. The band apparently recorded themselves playing the song, then dubbed it over to give their voices an "alien" effect; very suiting for the entire intergalactic theme of the song: "To the big creator, come and save us cause we're lost in space!"
So ends the most recent installment of music by All Star United. There may be some complaints from fans concerning the absence of harder rock tunes such as "Bright Red Carpet", which was a hit on All Star's debut, from the album. True, International Anthems is different, but it's delightfully different. This album catches the band's true personality: happy-go-lucky, fun loving, and worshipful, all at the same time. All in all, All Star United has created another successful album that's sure to be an enjoyable listening experience for fans of all ages.