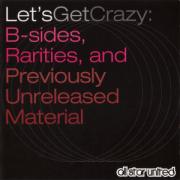 Possibly the last we'll ever see of glam Christian rockers All Star United is this jewel of an EP, only obtainable through their website, which is now shut down. Let's Get Crazy: B-Sides, Rarities, and Previously Unreleased Material was meant to whet fans' appetites until the release of ASU's much promoted third album, an album still not released since this popular band was booted from Essential Records and have had various signing problems. Will Ian Eskelin and co. ever come back? No one knows that answer except the band members themselves, but if not, then this 5-song EP serves as a fine swan song for the guys.
Kicking off with the title track, All Star United blends fun, hard rock with their usual zanyness, and the result is sheer delight. "Let's Get Crazy" will have ASU fans so giddy that they'll play this track over and over again. Next comes "Satellite," one of the band's more mellow tunes and in actuality not up to par with any of their previous recordings. The song itself tells of a desperate girl who needs an example to follow and finds that example in Jesus Christ. "Big Mistake," the next track, picks things back up with megaton guitars and a command for Satan to "Get off my back / it's a big mistake / together you and me." Finishing off with two ballads, "Fall On Me" and "Song for the Broken Hearted," lead singer and lyricist Ian Eskelin pens two intertwining stories of turning away from the popular crowd ("Song...") and falling on the grace and mercy that God so freely offers ("Fall On Me"). Musically, both of these are great, and they leave listeners wondering why they were never included on an original All Star album.
Even with only five songs to its credit, Let's Get Crazy sums up brilliantly the short-lived career of what could have become the greatest rock band in the CCM industry. Fans lucky enough to snag a copy of the EP while it was available should be extremely satisfied, while the ones who missed out may find themselves waiting indefinitely for another All Star United offering.