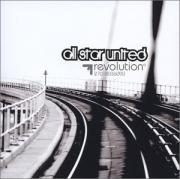 Throngs of eager fanatics turned cartwheels and sang in the streets. Fans who never gave a second guess began taking their memorabilia off sale from eBay. Personally, I played Handel's "Hallelujah Chorus" more than 27 consecutive times. No, we did not finally obtain world peace, but it's the next best thing. Stemming from a partially hidden interview on CCMMagazine.com, Ian Eskelin had announced to the world that All Star United would be releasing a third full-length album. This declaration stirred much praise, celebration, and controversy, but Eskelin followed through on his promise. On March 23, 2002, Revolution was released in the UK on Double Happiness Records and distributed by Fierce! Distribution.
Although Double Happiness Records has previously been unheard of, I don't think anyone will complain after waiting nearly four years. Actually, it's kind of a fitting label if you're referring to the response of ASU's global cult of followers (I can see the T-shirts now: "Double Happiness rocks!"). The only problem is that Fierce! often distributes CDs according to their philosophy, "UK now - US later," also referred to as the "Stinky Americans" policy. This means that stateside ASU fans will have to suffer a lengthy hiatus before the disc arrives in their hot little hands. [Shameless Plug: You can order Revolution right NOW from GoldUSA.com for about $16 and receive it in 3-5 business days.] Now, on with the review. You can thank me later.
Revolution slightly differs from the All Star United of yore in numerous ways. First of all, it should be known that Ian "Bubba" Eskelin, who recently revealed that he has a day job writing country songs in Nashville, is the only remaining member of the original band. The new ASU consists of Eskelin and three of his nameless cohorts whose names are mentioned in the liner notes (amid various other musicians) but are impossible to match with a respective photo. Together, these four have managed to retain the spirit of All Star United while producing a more mature, sophisticated album this time around. And being mature and sophisticated doesn't mean it's not good. On the contrary, it's their best yet.
The sound of Revolution, unlike Kirk Franklin's version where other people sing for him while he shouts various catch phrases, has more of a retro feel than the first two ASU albums. Don't be confused; this band is infamous for their glorified 70s-ish style of music, but Revolution takes an entirely different direction. The change is evident on songs such as "We Are The Future" and the title track, which feature rubbery, sing-song instrumentation rather than the glam rock approach taken in the past. You won't find any crunchy "Big Rock Show" guitars or rapid fire machine gun vocals here. Instead, Eskelin's voice jogs at a steady pace, rising to an unfamiliar high falsetto at some points but suiting for the Rod Stewart vibe these tracks emanate.
In other places, All Star United releases some of the built-up rock and roll talent they've been repressing for the past four years. "Let It Rain" and "Kings and Queens" both see the boys revisit "Bright Red Carpet" and take it a step higher by adding a dab of programming here and there for a sonic effect. "Let It Rain" is predestined to become another fan favorite for its wailing lead guitar, which claims a solo during the bridge, and ostentatious drum set. "Kings and Queens" is unmistakably a #1 hit due to its ubiquitous bassline and sidereal electronic programming. This track also houses a distorted, grungy, electric guitar solo that pulses with raw energy.
Revolution's ballads don't travel anywhere musically but instead shine on the lyrical development of the band. Obviously Eskelin has had plenty of time to craft his lyrics and it shows, especially on the elegant "Sweet Jesus." Almost crossing the worship boundary, Eskelin brings his failures into light ("It's been far too long / since I sang your song / and I was hoping that you might like to meet me") and asks the Saviour for healing in his pleading chorus: "I heard you heal the broken hearted / even those who've been discarded...would you sing me now to sleep?" Eskelin, who said he's been influenced by Johnny Cash as of late, proves the point once over on "Making It Beautiful," a dreamy tune saturated with acoustic guitar. Musically this track is a bit on the boring side, but the lyrics here are the most profound and poetic of any he has penned: "All of my love I'm sad to say is all I can give to you / And could that be enough of my love to repay all of the things you do / Take my breath away / making it beautiful."
You can't really make it through an All Star United album without running into at least one love song. Revolution has two designated to this category: "Made In Heaven" and "You Can Count On Me." "Made In Heaven" is the more upbeat of the two, employing the same formulated melody from "If We Were Lovers," but supplementing a few dozen power chords to keep things interesting. "You Can Count on Me" lacks that energy, but its lyrics along with Eskelin's crooning vocal performance make this song the one that will cause females of all ages to swoon and pass out at ASU concerts. Phrases such as "From the moment that I met you / you made my life complete" speak for themselves (ladies, stop drooling; it's rude). It also marks the return of a (barely audible) keyboard into the instrumental set, which has been sorely missed since the days of "Tenderness."
This disc's last two tracks are the ones listeners will want to skip to right away, seeing as they scream "classic All Star United." Track nine finds Eskelin and Co. in the midst of a "Global Breakdown" (the video for this one should be interesting) where Armageddon is stressed to the max. The band takes solace in making the point "What's the purpose / of being nervous / until it's finally here? / I won't live in fear." Then, through an entourage of sizzling keyboard and a sudden flaring surge of guitar, they proclaim Jesus as the Rock that can't be shaken. Finally the disc climaxes in "Weirdo," perhaps best described as no-holds-barred fun. "Weirdo" is the definitive champ of this record; from the opening drum loop to the freakishly escalating "aaaaahhhhhHHHHHs," to Ian's zany vocals ("We took a hit on the big bang / it screwed up the yin yang / If the truth is pig feet / then God is Siegfried and Roy / oh boy!), All Star United is unabashedly unashamed to declare themselves weirdoes for knowing Christ as Lord.
Ready for the let down, kids? All of the aforementioned lasts no longer than 30 minutes and 22 seconds. Whether it's due to Ian Eskelin's bizarre artistic style or the possibility that the band simply lacked the funds to do more, the mere ten track recording is over almost as quick as it started. And after four years of waiting too. Are they trying to drive us crazy?? Apparently, but all things considered, that's a minor complaint. The bottom line here is that All Star United finally released something new, it's incredible, and you should own it. Here's praying that it doesn't take another four years to see their fourth album hit shelves.