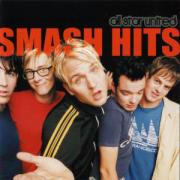 Many people would argue that a greatest hits album after only two records would seem absurd. To set the record straight, it is. Luckily, All Star United somehow manages to pull it off gracefully. After being suspiciously dropped from Essential Records (quite possibly the label's biggest blunder), Smash Hits was intended to provide some kind of compensation; whether that compensation was intended for the band or its fans is anyone's guess. It could be that Essential was trying to squeeze as much money out of them as possible before they departed. Either way, this is an album specifically for the die-hard ASU fan who must have it all. Two totally fresh creations are included: "Hang On" and "Baby, Come Back," both prime examples of All Star United's talent. There's also an acoustic version of "Savior of My Universe," but whoever heard of THIS band covering anything acoustic?
In addition, all of your favorite past hits are included, a few of which are "Smash Hit," "Big Rock Show," "Superstar," "Bright Red Carpet," and "Popular Americans." Even the infamous hidden track, "Hurricane Baby," from their International Anthems record is included. Consider it a favor.
Two new tracks don't make this album worth the price by a long shot (unless you're a dyed-in-the-wool fanatic such as yours truly). On the other hand, after a lack of any relatively new ASU material, you take what you can get. For those fans who missed out on the Let's Get Crazy EP, Smash Hits will likely be received with open arms.