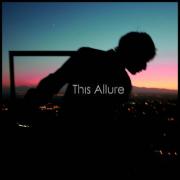 For all the hype (whether negative or positive) surrounding the Los Angeles based website Myspace.com, it's proven to be a great place to find new bands. I'm only able to write about This Allure due to some friend-hopping and friend requests. And rest assured: this isn't your typical Myspace band. There's no striving to sound like the latest fad; there are no glamour photos; there's no PR tactic to try and draw a large collection of fans. It's just a group of guys making music—something that I believe should be the goal of every band.
Until recently, This Allure was a one-man show, the darling of front man Colin Thomas. While friends helped a bit on additional guitar and drum work, Thomas created and recorded every sound on the debut record in his own recording studio, The Apple Room. Remove the image of the street-performer wearing a bass drum on his back, guitars on his arms, and a harmonica on wires in front of his mouth; this is a first-class recording. Thomas' concept of rhythm, tone, and eclectic flavoring, combined with his mature vocals, blends into a warm project. More ambient than rock, more rock than trance, This Allure is hard to classify. It holds the piano and guitar reverberation made popular by Coldplay, and the fairy-tale feel of Eisley, but the overall sound cannot be pigeonholed. In an industry where copying becomes typical, I might have just stumbled upon a unique musical expression. Don't quote me on it; some might detect the musical influences within the first thirty seconds. But as far as this reviewer is concerned, This Allure has approached the almost unapproachable ground of "originality."
A personal favorite is "Over Under," which opens with a pulsing organ, counter-beat drums, and plenty of guitar digital delay. After asking Thomas about the song, he said the basic structure came together on a piano in the course of five minutes. This tune carries a certain simplistic power that makes that statement completely believable. If there were ever to be a radio single, and if I gambled, all bets would rest on this track. In the chorus Thomas sings, "I am overwhelmed when you surround me / Over underneath my boundaries / There is no other one who could have changed my heart like this." While remaining sonically appealing, "Over Under" holds a worshipful feel; I thoroughly enjoy the marriage of rock and praise.
That isn't the only moment of glory on this seven-track CD. "As It Should Be" opens the CD with pop/rock, almost U2-ish guitars that immediately hook the listener. It also showcases Thomas' smooth vocal range. "Perfect & Scary" melds Pachelbel's "Canon" into the outro as an ethereal arrangement that still amazes me, and the vocal harmonies ring with airy strength. "You'll Find Me Dancing" uses soft piano to form a lover's ballad: "And you'll find me dancing in the moonlight / And you'll find me dancing for tomorrow / Though it's so cold outside / I am safe in your arms tonight." The dancing occurs even though there's waiting involved, even though God keeps things hidden. "Centerpiece" stands as a solid conclusion. With weaving harmonies, Thomas sings, "I searched the world over and I found my home / I'm finding out that trusting is where you are known." All exploration comes to a close with the reestablishment of the center.
I see nothing but promise for This Allure. There's enough here for any top-notch producer to work into a stellar product. Even if that producer never comes around, however, there's enough intelligence in this CD for it to stand on its own. Word-of-mouth might be the only promotion the band receives, but it also might be the only promotion they need. Order this CD through their website and be prepared to be allured.