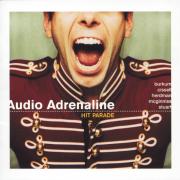 The following was said of Creed recently: "They're not necessarily trying to change the face of rock music. They're just trying to do honest, hard-nosed, good rock music. And when I look at each new record, I say to myself, "by gosh, they've done it again." (Or some variant of that). The same could be said of Christian group Audio Adrenaline. The Kentucky-based band has blazed few trails since they first arrived with Don't Censor Me in 1993, but they have made an honest effort to supply Christian youth with quality rock (and punk and rap and funk and ska) music. Their greatest hits collection, Hit Parade captures most of the best of it, and provides an enjoyable trek down memory lane.
The first and most annoying thing that must be noted about Audio Adrenaline's metamorphoses over the years is that they seem to buck the trends of the time. Contrary to the view voiced on "Will Not Fade," one of Hit Parade's two original tracks ("What I am / And who I am / Is never going to change," the band seems either unwilling or unable to formulate an identity. They sound alternately like Jane's Addiction, Sublime ("Mighty Good Leader"), Pearl Jam ("Man of God"), Rage Against the Machine ("Zombie") and the Cherry Poppin' Daddies ("DC-10") at different times throughout this album. And it's likely not a coincidence that AA has imitated them on albums released shortly after those bands made it big. The only truly original songs to be found are "Hands and Feet " and a couple of forgettables. It seems as though Hit Parade was made off the successes of others.
That is, of course, not to diminish the impact or ministry of this band. They have very successfully catered to a market in need of family-friendly and inspiring alternatives to secular acts. It just seems as though they've kept afloat in the business trying to be all of them.
The second observation that must be made is that this album is that it's been made after only five major studio albums. Since the group has not published plans to leave their label, it seems confounding that they would think the market (or their fans) needed this. The memories of 1999's Underdog are still fresh in mind, and one wonders why nearly a third of Parade would be dedicated to songs from that album.
Nearly another third of the album is taken up by songs from Bloom, the group's 1996 breakout hit. The rest is mainly filler from the lean early years ("Big House" and the thanks-so-much-for-stating-the-obvious anthem "We're a Band" are contributed from Don't Censor Me) and that off year in which Some Kind of Zombie was released ("Blitz," "Chevette" and the title track all find their way onto this album.
The highlights? "Get Down" and the aforementioned "Hands and Feet" from Underdog. But nothing you haven't heard before, and nothing you couldn't listen to on your old CDs. Both new tracks, "Will Not Fade" and "One Like You" show an obvious step forward in songwriting, and only serve to heighten anticipation of the upcoming Lift. The former is an anthem that begins with promise (the opening hooks are truly enticing) but sags where the meat is. In it, lead singer Mark Stuart ensures his audience and his Maker that he will not be shaken from who he is and what he stands for; that he'll let Christ's light shine. The latter is a sauntering, mid-tempo rocker; a "thank You" tune that reflects on the group's first eight years, thanking the Father for all of the success that's come so far.
The pattern throughout this album though is clear. Audio Adrenaline continues to get better with each new album. The new tracks on Hit Parade aren't quite good enough that you'll want to buy the album just for them. But it comes close. Pick this up if you've never heard the band, or if you're a die-hard fan. Otherwise, there's not much for you.