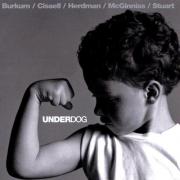 Reflecting on God's strength in our weakness, Audio Adrenaline takes that topic into circumspect with their latest studio release. Underdog is a unique mixture of all of Audio A's best, including the original sound and style fans have grown to love over the years without slacking on the message. Of course, with several various musical genres on the album, there's bound to be something in Underdog to please everybody, from straight-up hard rock to rockabilly to a mock coffeehouse song!
The CD kicks off with "Mighty Good Leader," a headbanging tribute to that superhero we all know and love, our own "mighty good leader," Jesus Christ. Reminiscent of Bloom, the title track comes next, describing the trials and tribulations that we as Christians face as the "underdog," but rejoices in the fact that "that's the way we like it" because we'll always come out winners with God. The next song, "Get Down," carries very much the same message, except with a more laid-back, danceable beat. "Get Down" has been so successful that the band has begun ending their concerts with it and opening instead with their mega-hit, "Big House." "Good Life," which is track #4, carries a melody so relaxing that it makes you want to lie back in a hammock with an ice cold lemonade, but the good life Audio Adrenaline is talking about is a life with Jesus as personal Lord and Savior where you already have everything you need. "Let My Love Open The Door" is a classic which Audio A. decided to re-record with their own original sound and a more Christian emphasis on the lyrics, while "Jesus Movement" sounds like it was ripped off a Sugar Ray CD, just without the secular lyrics. Still, the song is great, even with the intro of the dog barking. "Hands and Feet" is the latest radio single from the album, which calls all of us to be a witness by serving as God's "hands and feet" in order to spread the Gospel. Track #8, "DC-10," is actually a parody of a single by the same name from the band's first album. This time, it's written and performed in true rockabilly style, with lyrics that challenge the listener, "Do you know where you're gonna go? Straight to Heaven or down the hole?" It's so laughable and enjoyable that you may just find yourself tapping your feet or clapping to it before it's over! Jennifer Knapp makes a cameo on Underdog in the next track, which is the band's own reprise of "It Is Well." Knapp's vocals perfectly match those of the band, and the song flows beautifully in accordance with the traditional hymn. Meanwhile, "This Day" stresses the importance of seeing every new day God gives us as a blessing and to put it in His hands before trying to take it head on. To do this, Audio Adrenaline uses a slower, but still powerful, rock beat. Heavy electric guitar, pounding bass and drums dominate "It's Over," a song that seems suiting to close off Audio A's shows as well as the album, but for some reason it does neither, since "Get Down" has filled that position for concerts and "The Houseplant Song" has taken the spot at the end of the album. Supposedly rumored to have been a hidden track that got too much advertisement before the album's release, "The Houseplant Song" is a richly entertaining coffeehouse song about...well...houseplants, and the "so-called inherent evils of rock and roll." It all boils down to a message in the end though, such as "life and love and happiness, and the Holy Ghost."
With this latest release, it's evident that Audio Adrenaline did not come out as the underdog this time. Possibly their best album to date, Underdog offers something for everyone because it covers the entire spectrum from contemporary to rock. The motif is great if you're in a "down" sort of mood and need something to pick you back up, but don't just rely on the CD for that. Listen and be reminded of God's strength in our weakness.