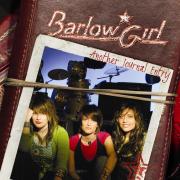 "We met these sisters / Barlow's their last name / Ordinary girls / They don't live in the fast lane"
So go the opening lines of "Barlow Girls," the leadoff cut on the Karaoke Superstars album from multi-instrumentalist Max Hsu and his cohorts in the alt-pop outfit, Superchic[k]. As anyone with even a passing knowledge of Christian pop will tell you, much has happened for the then-unknown Alyssa, Lauren and Rebecca Barlow since being name checked by Hsu & Co. in early 2002. Uniting under the BarlowGirl moniker, the musically-inclined trio took the Christian pop scene by storm with their 2003 debut. The self-titled project moved a quarter of a million units, spawned two Top 5 hits, including the longest-running Number One single of 2004 ("Never Alone"), netted the threesome four Dove Award nominations and went on to make the Barlows the top-selling new artist of 2004. To say that the sophomore release has some big shoes to fill is a bit like saying the members of KISS tend slightly toward the theatrical.
To their credit, the lasses Barlow kick the new record off in top form with "Grey," which, despite being an overly close approximation of Hole's "Celebrity Skin," features an infectiously driving rhythm, clever lyrical twists and just enough pop sheen to make sure it hits the Top 20. The equally impressive follow-up track, "Let Go," occupies that rarified domain where fist-pumping arena rock and ear-catching teen pop peacefully coexist. Likewise, the ingratiatingly effervescent "5 Minutes Of Fame" ("Maybe I gave in / Maybe I sold out / But I was getting nowhere / Until I woke up and found / That morals can't take you to the top") offers a witty, tongue-in-cheek look at the joys of compromising one's convictions that even the most hardened of pop haters would surely tap their feet to.
The siblings show an equal aplomb with kinder, gentler material. The splendidly understated modern pop ballad, "Thoughts of You," marries simple, heartfelt lyrics ("I love you / My heart is Yours / I long to give You / All of me") to airy, ethereal vocals which ebb and flow like a gentle ocean tide. The rousing, anthemic quality of "I Need You to Love Me" harks back to the classic '80s power ballad, even as its lumbering bass line, organic percussion and introspective lyrics ("Your love makes me forget what I have been / Your love makes me see who I really am") place the imposing tune squarely within the alt-pop domain. And the moving, piano-based "Porcelain Heart" builds nimbly from its austere and somber start to a grand, sweeping midsection before returning to its earlier hushed tones. Jim Steinman would be proud.
In fairness, the girls make a few missteps along the way. "Take Me Away" and "Psalm 73 (My God's Enough)" come across a tad sluggish and mechanical. The cover of Chris Tomlin's "Enough" stops similarly short of really taking flight, adding little to the superior original version. And it's hard not to view the acoustic repackaging of "Never Alone" for the new outing as more opportunistic than artistic. The abovementioned lapses notwithstanding, the new album tops the debut in nearly every category. Its lyrics display a heightened subtlety and insight into the human/divine relationship. Musically, its ballads are more diverse and leave a longer-lasting impression, while the more rocking cuts sport a grittiness and immediacy only hinted at by those on the freshman project. Indeed, where the inaugural release sounded like lost material from the Josie and the Pussycats soundtrack, the new record sounds more like, say, the gals from The Donnas covering the music from the soundtrack.
While most critics probably won't be lining up to label Journal as genre-defining, the record is nevertheless a solid, engaging effort from an enthusiastic and talented set of performers. In fact, for what it's worth, one would have a hard time imagining a more perfect soundtrack for the next long road trip in the family car. The twin first-grade girls are certain to bounce merrily from seat to seat in rhythm with its purely pop entries. Big brother, one year shy of graduating high school, will surely take a secret liking to its harder-edged cuts. And Mom and Dad will simply be glad that all of them are too preoccupied to ask "Are We There Yet?" Rebecca, Alyssa and Lauren would surely approve.