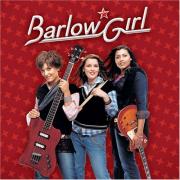 The girls in BarlowGirl were the basis of a hit song before most even knew who they were. As the protagonists in Superchic[k]'s "Barlow Girl," these three sisters were held in high regard because of their biblically strong morals. Now, with two years' experience and a record deal under their belt, this trio has finally released a debut CD in hopes of capitalizing on the notoriety provided by the Superchic[k] song.
The Superchic[k] influence is very prevalent throughout the disc, but the girls cannot rock like their mentors do. A more pop-ish sound, similar to the Kidz Bop series, comprises their songs. "You Led Me" is a prime example. It is much slower than the more upbeat tracks ("Superstar", "Pedestal," and "Average Girl"), but it is not the only song to take on this persona. "Mirror" and "Never Alone" are two more songs that are slower in beat. The latter song, however, is a sentimental, thought-provoking song. Written by the girls after friends confided to them difficulties in walking with the Lord, the song conveys the important belief that He is always there.
The randomness of plot lines goes as far as discussing "Clothes." According to the band, there is extensive support for the idea of this specific song (modesty in dressing and clothes), but lyrically I do not see how people can enjoy it. Musically, it is not half bad, but the words are more or less something you would sing in elementary school rather than at a rock concert.
The girls openly admit that they got most of the ideas from normal, everyday life, and it is obvious. The simplicity and flowery composition cause a sound that really doesn't fit the look or hype they garnered. For the publicity BarlowGirl compiled, I was expecting a little more and, therefore, this release made me want a little more. Nevertheless, I do give props to this young group and hope to see a greater product with their next release. To quote Amy Grant, "It takes a little time sometimes," and I think that is all BarlowGirl needs to win over the Christian music scene and make even more of a name for themselves than what they already have. They should be an instant hit with the younger crowd, but will need to develop their sound more to appeal to the older teenagers and young adults.