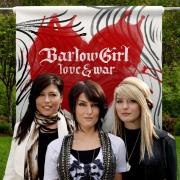 A few years back, I remember standing in the massive crowd at Creation Festival waiting for a band by the name of BarlowGirl to take the stage. There were a group of guys standing right behind me. I remember these guys making comments about having to stand through a "chick band" so that they wouldn't lose their spot for a later set they were waiting for.
BarlowGirl's set began, and it was great as always. I couldn't help but over hear those same guys from before the show, only now the comments changed to ones such as "Dude, they were so good!" Believers they now are.
The moral of the story is that, whether it's a hard hitting rock song, or an amazing worship ballad, BarlowGirl's music seems to relate to most people on one level or another. Their new release, Love and War , will be a perfect addition to the family as their fourth studio release.
I have always appreciated the girls' fearlessness in standing for what they believe in. They take risks and stand in front of thousands of people telling them what they believe, even if it's not the popular vote. I admire that, and it has not seemed to have swayed on their new release.
"Time for You to Go" is a perfect example of BarlowGirl's strong stance for their beliefs. It speaks of how easy it is to fall victim of the messages from society and the media, and how easy it is to be persuaded by the two. The girls sing of looking for God's voice in the whole mess, and to not fall prey to worldly messages.
The opening track, "Come Alive," takes a similar approach. It speaks of the urgency of taking that step forward to follow the calling that is on your life.
One thing I have always looked forward to on a BarlowGirl album are the slower ballads of worship songs and love songs. Their yearning for God's love really shines through on every album, and inspires people to go deeper in their relationship with God. "Sing Me a Love Song" is about yearning for God's love, and wanting him to hold us through this life. It's just a plea for God's love, and I really think it's an amazing addition to the album.
One of the most difficult songs for the girls to write was "Tears Fall," which they have been attempting to write for two years. This piano and vocal driven track speaks of the Pro-Life stance that BarlowGirl has. Again, this is a perfect example of BarlowGirl speaking what they believe, not knowing what the result may be. The addition of a choir as backing is an amazing touch. This is definitely one of the stand out tracks on "Love and War."
After speaking to the girls over the phone, it is absolutely evident that their heart is one-hundred percent in this ministry, and that they continue simply because it is God's calling. What is also evident is the growth of this band as a whole since their first release in 2004, from their sound to their image. "Love and War" seems to be a more matured version of their past efforts, and they feel this is "their most personal effort ever." The time and attention put into this album is obvious, and I wish the best for this band as they continue to follow the calling God has placed on their lives.