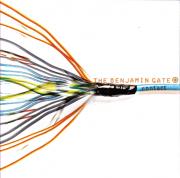 WOW!-the first thing that popped into my head when I first heard the album. Truly an incredible piece of workmanship, The Benjamin Gate's 2002 release Contact is something most involving and fantastical! This album will definitely satisfy the hunger for more TBG.
When the music industry as a total is getting stagnant with assembly line produced music, a fresh step from the lady and gents of TBG clears things right up. Other than the album being extraordinary, the first thing I noticed about the album was the guitar effects. FABULOUS! "We wanted Contact to have a raw, organic edge," says the 20-year-old Adrienne. "The guys in the band love effects, and they filtered that influence into a more rock sound. We also had fun playing around with different sounds and approaches to the songs. In the end, we want to take the special element we have performing live - a passionate, energetic, melodic, guitar heavy show - and translate them onto the album." All throughout the album, listeners find themselves totally immersed in a swirling torrent of guitar crunching and strumming adventure. Adventure? Yep, adventure.
Things kick off with "Lift Me Up." And that is exactly what the song does. Fast and energetic the opening track sets the sights for the rest of the album. "This Is Not" continues with the rocking good stuff. The lines "How far I am from where I need to be/I'm so tired of this useless fantasy" hint at a failing relationship or a girl attempting to be a people pleaser. "The Calling" is a laidback piece exhorting Christians to step out into a world that needs Christ. "Do What You Say" opens with other worldly guitar notes followed by an explosion of musical muscle from all sides. This track talks about our imperfections as Christians and how we need to walk the talk. "Overkill," a reworked 80's song done by Men at Work, is a bass-laden, moody piece pleading for peace in midst of an overbearing world. Things pick right back up with the inspiring "Light," and things slow right back down with the ballad "Your Kisses Blind Me," adoring the beauty and purity of God. "Tonight," "Gratitude," and "The Way You Are" express a firm faith and appreciation of God. "Violently" urges Christians to "fight till we reach You" in a rocking good track. More great sounds pulsate through "Fall Away." Let the album play a little more and a pleasant surprise appears: a more aggressive form of "The Calling."
All in all this is a totally wonderful jewel of an album. GO GET IT!