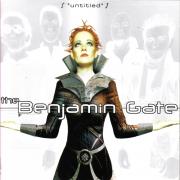 "Of Benjamin he [Moses] said: 'The beloved of the Lord shall... dwell between His shoulders,'" reads Deuteronomy 33:12. Final words from an Old Testament patriarch are an odd source for understanding a 21st century rock band. But Moses's words speak all too directly of South Africa-born The Benjamin Gate, who cling to their Father's knees like children, always wanting to be held. Not to dismiss the "attitude" present here. Singer Adrienne Liesching gives sassy disposal to lyrics, backed by ultra-abstract (read: sonic contortion) guitarists Chris Poisat and Mac Pautz, and rigid rhythms via Costa Balamatsias (bass) and Brett Palmer (drums). A metaphor for Jesus using half-finished vessels, The Benjamin Gate's musical indefinition is what lets God's glory and creative spark shine through.
Smartly christened Untitled, the debut CD employs "How Long" as its opening prayer, introducing listeners to this spaced-out universe created by new technology and old things like melody and inspiration. Spiritual yearning is given a combative edge on "Scream," transmitting the knowledge that only drowning one's self brings fulfillment. A single with a vibrant life on radio charts, "All Over Me" swims in the perpetual tide of God's love without neglecting the Savior torn that humanity might receive love. The "Heaven" chorus gives pleasant resolve to disconcerted verses (much like dance-driven track six "Nightglow"), dwelling on weakness and pitch cold nights before turning those images inside out as vision within blindness.
If one ever doubted that Untitled was a learning experience, the record's latter half becomes a crash course in all styles modern. Police sirens, a vacuum cleaner, and tunnel echoes are emulated in "Lay It Down," a portrait of surrender as poetry. "Blow My Mind" is exactly what The Benjamin Gate's full-on assault did to me, featuring wild drumming and Adrian's plentiful voice. Even pop has a place in this conglomeration, though not without a twist or two. This refers to Untitled's choicest track, "Halo," a song of contentment ("Your heart it is enough"), prodigal leanings ("How far I stray"), and worship ("Your love is my halo"). Enough cannot be said about this cut, coming complete with layered harmonies ala Avalon though still reliant on the musicians' pushy sensibilities.
"Rush" and "Secret" use similar bells and whistles, guided around mental sickness and cold isolation by some divine detours (at one dramatic point, "Rush" quotes Psalm 1 word for word). By the time "Hands" rolls around, listeners are accustomed to song lyrics that have a magnificent redundancy, spelling out grace, freedom, and rescue by the Spirit in no uncertain terms. What would surprise is a modest, calm melody, which the female vocalist presents here with expressive humility. "I am a witness ~ I'm at the scene of this," broadcasts "Live Out Loud," an appreciation of time spent walking out an audio/visual faith; a hidden track (no. 77!) lets loose any remaining stamina, shocked at the "True" honor it is just to love the Creator.
"...Benjamin shall dwell in safety by Him, Who shelters him all the day long," concludes the aforementioned verse. A noise level that won't quit is the only complaint on Untitled, which finds much to savor under God's covering. Were there more Benjamin Gates to be entered, electronic rock would surely be the future.