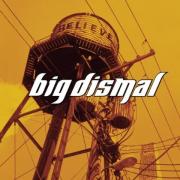 In an attempt to broaden my musical knowledge this past year, I took a course titled "Music in Popular Culture." My professor (who looked like Santa Claus but wasn't nearly as jolly) explained to us the logic that Sun Records employed in allowing Elvis to sign with another label: it wasn't the singer himself that was selling records, but the new style in which he sung (the marriage of country and R&B we know as rock and roll). Wind-Up Records, though not stupid enough to let Creed walk, has seemingly employed a similar strategy in most of its recent signings: any band that sounds like Creed, is into soul searching and has a singer similar to Scott Stapp, is welcome.
The latest in a string that includes 12 Stones, Seether and others, Big Dismal is the first that is being marketed as openly Christian. Their debut album, Believe, exhibits the amalgamation of diverse musical styles, but is at heart simply a product of Wind-Up's simple equation for success: ANYTHING THAT SOUNDS LIKE CREED = $. Fans of that Florida-bred, grunge-influenced band will love Big Dismal; others won't find enough original material to be satisfied.
Having said all of this, some of the tracks on Believe contradict most of what you've read so far. The second cut, "Just the Same" is more similar to acts borne out of the mini-revival of Southern rock that occurred in the mid-to-late 90's. It is far more upbeat and pop-like than most of what you'll find in the Creed catalogue and more closely resembles a 7 Mary 3, Sister Hazel or Train song. "Run Away," on the other hand, has elements of Bruce Springsteen, metal and punk (the less pure, Relient K variety) and clocks in at only 2:45 (most Creed songs are either epic or chopped at around the radio-friendly three minute mark).
Still, much of the rest of Believe sounds like a collection of cover tunes or Creed B-sides. "Missing You" is in essence a condensed version of "Who's Got My Back," and "Reality" is much the same for the first few bars, after which it morphs into a more straight ahead alt-rock song not unlike recent Audio Adrenaline material. "Running Through My Mind" is reminiscent of 12 Stones' "Broken," but asks bluntly what Stapp often says poetically: "What am I doing here? / I need to know if / It's all been a waste of time?"
The remaining songs are odd marriages, with Creed always as the groom: "Too Pretty" is Creed meets the Goo Goo Dolls meets Steven Curtis Chapman's "This Day;" "Gave it All Away" is like a Stapp/Michelle Branch collaboration; "Losing You" sounds much like Third Day would with Creed's rhythm section.
In sum, Big Dismal offers to Creed fans adrenaline-producing, up-tempo, introspective rock produced by four men who are not ambiguous about their faith. Listeners looking for a Christian equivalent to Creed but are unsatisfied with Kutless should find it here.