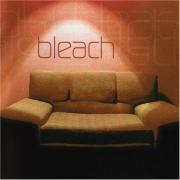 Since their last album, Static, Bleach has evolved quite significantly, noticeable through their lyrics and their style. Sporting this new attitude and a new band member, former Seven Day Jesus drummer Russ Fox (who now plays bass guitar), Bleach has finally released their self-titled project in hopes of taking the gospel of Jesus Christ even further. The question is, will these changes affect how they do the job?
Apparently not. Even though the self-titled album has a more serious edge than previous releases, Bleach still knows how to have fun and rock. The opening track, "Heartbeat," drives home that point. The rock is more mellow, sort of a trend from dc Talk's Supernatural, but listeners shouldn't have a hard time enjoying it. "Straight Shooter," which is track #2, pumps things back up again with some of the original hard core Bleach sound we all know and love. Following this is "Once Again, Here We Are," the first radio single from this CD. "Once Again, Here We Are" discusses how the band has changed from the past and emerged from their state of mediocrity to continue spreading Christ's word through their music. The next track, "Race," is a song that has a beat to compliment its title. With its tune racing at "one hundred miles per hour," Bleach invites their fans to "step on in to a race that never ends." The first slow song of the album, "You," begins with a steady, techno beeping that is reminiscent of something from a Skillet album. The lyrics are deep, meaningful, and poignant, but Dave Baysinger's yodel-like chorus becomes annoying after the first time through. The band enters worship mode with track #6, "All That's Sweet." The song contains little more than acoustic guitar and a few drums and is an ideal song for a quiet time or other worship experience. Just when you think Bleach is laying down the hard and heavy for good, they shake things back up with "Reasons." It's in this song that Russ Fox's prior Seven Day Jesus experience shines through, and the music actually sounds like it belongs on an SDJ album. "Breathe," the next track, is a plea to God when going through life's trials and tribulations. It's similar in sound to the Newsboys version from their Take Me to Your Leader album, with the exception that Bleach isn't Australian. Track #9, "All To You," is another mellow, worship tune in which Bleach encourages the listener to just give everything to God. However, it simply sounds like a rewrite of the earlier "You" with a slower sound and probably could have taken its place on the album. "Good" picks up the pace a bit, but not much, with the simple truth that God is good and gives us more blessings daily than we deserve. Lyrics such as "But I believe you've given me more ~ than I could know ~ and I know this ~ You are good" are just proof of the song's message. Apparently, Bleach has been holding back their true ability to rock this entire time, because track #11, "Sun Stands Still," has to be the loudest Bleach tune yet. Based on the book of Joshua, the band proclaims God's power with the ability to make the sun stand still and ends with the worshipful, but still incredibly loud lyrics, "Hallelujah, Hallelujah ~ Jesus, you're the one ~ you're the holder of the sun." Finally, Bleach closes off the CD with "What Will Your Anthem Be?" It's a tune similar to that of Matt Redman's "The Heart of Worship" with a persuasive cry to the entire human race to let the truth about Jesus be told.
With a guest appearance by Pete Stewart on guitars, background vocals, and a variety of other things, does the new self-titled release measure up to the previous two Bleach albums? Well, it depends on what kind of fan you are. Some listeners will miss the original fun sound of Bleach, but there is no question that the band has found its focus. In my opinion, it's certainly not their best work, but worth the money to add to your collection anyway. This is merely a preview album to keep us occupied while waiting for something bigger and better. Hopefully, the next release won't be too far away.