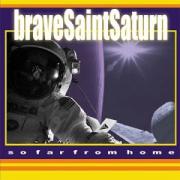 When Five Iron Frenzy's lead singer and lyricist Reese Roper started writing songs that didn't fit the usual Five Iron music style, Brave Saint Saturn was born. This side project was created by Roper as an outlet for his thoughts on such subjects tragedy, sorrow, and hardships, things he thought too dark and emotional for Five Iron Frenzy. His Five Iron Frenzy band mates Keith Hoerig, and Dennis Culp contribute their talents to the album along with former Five Iron member Scott Kerr. The music centers around the main trio playing electric, acoustic, and bass guitar, although there are many different layers. With the addition of programming, sampling, and many studio musicians, the songs become very complex and Roper's melodies flow beautifully over the exceedingly well-played pop/rock music.
The album opens with "Prologue," a short instrumental with recordings of astronauts talking over the music. The astronaut recordings are included on other songs, adding to the space theme of the entire CD. The songs following all tell seriously about a loss, loneliness or pain, with the exception of "Shadow of Def." It's a mock hip-hop/rap song with lots of "street lingo" and some "Yo"'s thrown in. It seems silly to begin with, but the last stanza tells the listener to "turn off the TV, put down the phone, go talk to 'JC' and be alone," letting the true meaning come through. The more serious song "Two-Twenty-Nine" is about Roper's painful loss of his grandmother and how he deals with it. Samples and slower music add to the haunting quality of the piece. His singing is very passionate and meaningful, so much so that the beautiful chorus comes easily to life:
"In a world of dying children,
Rain never seems to cease,
I will hope for things unseen now,
One day my heart will be at peace,
I said I loved her and she knew it,
Whispered softly to the sky tonight,
She is warm and safe in Heaven,
In the loving arms of Jesus Christ."
Brave Saint Saturn easily draws away from the regularly upbeat sound of Five Iron Frenzy and goes for more of a darker mood and they pull it off excellently. The music and lyrics are combined perfectly to create a spacey-pop odyssey that will be sure to make So Far From Home a hit.