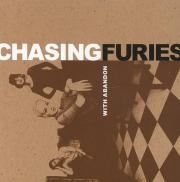 From the melodious piano solo that opens the CD to the ear-pleasing sound of the electric guitar that is woven throughout it, With Abandon, the debut album from Chasing Furies, takes the listener on a non-stop joy ride. Siblings Sarah (vocals, guitar), Rachel (piano, bgv's) and Joshua (vocals, guitar) Meeker, make up Chasing Furies, a band that has taken Christian music by storm. This album's lyrics leave the usual cookie cutter lyrics of most albums behind in a cloud of dust, as Sarah and Josh dare to take the listener deeper into their minds, feelings and personal experiences. They open their audience's eyes to human frailty and the essential need for Jesus Christ. The music, also written by Josh and Sarah, is so powerful that it will surely remain planted in your head. Sarah's warm, angelic voice, Josh's screaming guitar parts and exceptional voice, and Rachel's beautiful piano part create a sound that has been compared to the early music of Sixpence None The Richer. Together, the music and lyrics of With Abandon make this project unstoppable. The first song of the CD, "Thicker," starts with a soft piano part and later explodes with drums, electric guitar and Sarah's voice. The sound is held together by lyrics like:
I can't touch you now
I can't see you now
through the haze...
but your laughter, it lingers now
you were swept away.
The next song, "Throw Me," portrays God's embrace, while Josh's "I Would Drown" confesses the need for His love. In "Fair Nights Longing" Sarah speaks of "the fragrance that lingers around" a person when they have found Jesus. The hit radio single "Enchanted" bursts with the joy of Christ in a song that will bring a smile to your face. The album takes a turn with "I Surrender," a song of growth, pain and hope. In the song, Sarah sings of "the one i cry about, yet i cannot live without." Josh discovers God's sufficient love in "Romance Me," while, in a unique way, the extremely energetic "Writhe For Hearing" talks about longing to be with God. "Nothing" and "Whisper Softly" are similar in that they are soft, simple songs that flow into each other. The cicada laced "Nothing" claims that we are nothing without God and "Whisper Softly" recalls a feeling of peace, as it sets the mood for the last song. Finally, "Wait Forever" (my favorite) is a beautiful, poetic song about God's ever-patient love. It ends the CD with the repeating line "How can God see us face to face til we have faces?" intertwined with the melodious piano part that opens the CD. Chasing Furies credit C.S. Lewis as an inspiration to their writing. All of their songs are obviously full of thought and love, and the flawless music makes this an amazingly colorful CD that is certain to be music to your ears!