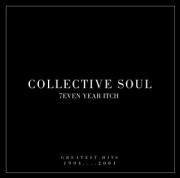 Right alongside Creed in the Crypto-Christian category of modern music is Collective Soul. Through the past seven years, they've puzzled both Christian and secular listeners alike with their positively reinforced lyrics and even discussion of salvation. No one really knows for sure where they stand except the band themselves, but one thing's for certain: they are musical prodigies. Their greatest hits album, 7even Year Itch, showcases their most memorable songs and captures the energy behind the band's talent from 1994-2001.
Opening with "Heavy," 7even Year Itch proves just how far Collective Soul can go with the electric guitar. In fact, most of their greatest hits include driving, screeching power chords, and in the case of "Heavy," this is two minutes and 55 seconds of bliss. However, "She Says" slows things down drastically to an almost acoustic string arrangement as it weaves the story of a woman who's failing the test of life in her search for truth, love, and forgiveness. The infamously popular "Shine" from the band's early 90s days comes next and is what helped skyrocket Collective Soul to fame. It was also among the first of batch of songs to puzzle the secular crowd with its overall spiritual lyrics: "Teach me how to speak / teach me how to share / teach me where to go / tell me will love be there / Heaven, let your light shine down." "Energy," a new Collective Soul creation exclusively for this album, delivers powerful shock rock in the form of crunchy electric guitars and hyperactive bassline, while "Run" dramatically puts to words the search for salvation. It almost sounds as if the band drew inspiration from Philippians 3:14 for this track, as they sing about "the goal" they've waited on, reminding themselves that they "have a long way to run." Meanwhile, "Gel" rocks as hard as "Heavy" did, with a catchy "Uh-huh, uh-huh, uh-huh" during the chorus and a massive guitar solo among the best on the album.
Deciphering "Precious Declaration" could be as difficult as trying to find a needle in a haystack, as the band "finds encouragement" in the fact that "all hope is dead no longer." It seems to be also the most questionable of the band's lyrics as far as Christianity goes: "Once I jumped through hoops of fire / high and far as you required / I was blind but now I see / salvation has discovered me." Could the "Precious Declaration" talked about be Collective Soul accepting Christ as Savior? Yet another mystery to be unraveled within the song's street-style drum beat. "Why Pt. 2," a popular single from their Blender album, sheds any spirituality and instead bitterly reprimands a significant other who's been unfaithful. Following up with one of their emotional hits ever, the band mourns over the loss of conscience and kindness in the world, yet still longs for "The World I Know." True to its sympathetic melody, a violin arrangement in the background paradoxically brings out the deepest sense of pain and hope alike. Collective Soul then goes on to talk about the second world in "Next Homecoming," another new cut where they seemingly ask God to speed up the process: "I need the world to be controlled / and in the evening when I leave / I need a reason to believe / in the next homecoming."
A more laid-back "Listen" floods listeners with even more stigmatic lyrics during its bridge: "You crucify all honesty / No signs you see do you believe / and all your words just twist and turn / reviving just to crash and burn / if only your heart could open up / and listen." It seems to describe someone who hasn't yet accepted the truth, yet this could ironically be about the band themselves. There's no joy and peace during the season of "December," since Ed Roland's gritty vocals beat down "ambience and vanity" as in its predecessor "Why Pt. 2." In the end, however, all things boil down to "Forgiveness" in a mellow, innovative track that pleads for mercy on all accounts, for and from others, and even from God: "So I wash away stains of yesterday / and tempt my heart with love's display."
Even though they're not in the Christian market, Collective Soul's 7even Year Itch provides an overall positive listening experience. With lyrics that are ultimately harmless and some of the best artistry of our time, this album (and band) deserves high acclamation, and hopefully future albums from Collective Soul will "shine" a little light on where they really stand with God. In the meanwhile, 7even Year Itch comes across on a high note.