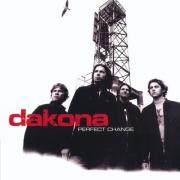 One common misconception about Christianity is that we have it easy. Of course, we're partly to blame: we paint ourselves as glorified boy scouts who donate to the poor, fight ozone pollution, and help old ladies across the street. Adversely, look at any Christian's life behind the scenes, and you'll see that we face just as many (if not more) trials and tribulations as the rest of the world. While they aren't classified as a Christian band, listening to Perfect Change makes it clear that Dakona's members are indeed Christians who have experienced these dark nights of the soul. They make no attempt to mask or sugarcoat their feelings, which surface through their lyrics in the form of anxiety, regret, and repentance. Instead the band members share what happens when you allow God to become part of the solution.
At first, you can't help but wade into the shallows of Dakona's lyrics. Songs like "Good" and "Soul for Sale" seem amazingly bland on the surface; so much, in fact, that it's easy to forfeit searching for any deeper meaning and accept these guys as "just another rock band." Let's face it: It's simpler to squeeze blood from a turnip than to divulge any significant meaning from "Joyride in a hot car, baby." Anyone willing to try content listening, though, will catch on to exactly what Dakona is trying to say. "Good," which ironically is the best song on the album, is a glimpse into the world of a homeless girl and a gradual understanding of the pain she feels just trying to survive another day. "Soul for Sale" is exactly the opposite. This time the girl we hear about is caught up in a life of glitz and glamour, sacrificing her place in eternity for "fifteen minutes of fame." Unfortunately, there's no resolution by the end of the track, and we come away knowing only that "she wants to be where you can see / she wants to yell out from her car, 'I'm a star!'" Dakona doesn't mention empathy within their lyrics, but they certainly have a way of making you feel it. Likewise, "Revelation" was written for a former band member who was forced to make an important decision when his girlfriend became pregnant. Dakona's summation of his anxious feelings lies in the chorus: "I think I've had enough / I'm praying for a revelation / Can you set me free? / This is killing me." Thankfully, he acknowledges God as being in control of the situation, and according to the band he has been blessed with a beautiful family. Several other tracks on the disc also carry meaningful inspiration: "Waiting" and "Trust" are about relationships gone awry and how God ushered in resolution; worldly possessions are laid down in "Richest Man" as the band grasps at eternal treasure; "Untouchable" is the tale of a hardened heart who refuses to let anyone near while wallowing in self-pity; and "Beautiful Thing" refutes the aforementioned track by pointing at God's love for His creation, even though suffering is sometimes inescapable.
Pinpointing Dakona's sound can be misleading. Musically, they are a chameleon band that can mimic practically anyone, so it's needless to say that countless comparisons will be made. On "Waiting," Ryan McAllister's vocals seem raspy and stretched, likening the performance to Our Lady Peace, while "Revolving" comes as close to Matchbox Twenty as you can get, featuring brooding, twisted melodies combined with vocals not unlike those of Rob Thomas. Fans of Further Seems Forever will be pleased with "Trampoline" as it features the signature warbling guitar that they're so well known for, and John Biondolillo's drum loops on "Richest Man" share familiarities with Lifehouse drummer Rick Woolstenhume's. Just when you think you've heard everything, Dakona summons forth U2 and/or delirious? instrumentation on "Trust" and a bit of Remy Zero on "In God's Name," a song lashing out at justifying wrongdoing in the name of God. Truthfully, comparisons with such an arsenal of bands would be seen as unoriginal on Dakona's part, but they pull it off incredibly smooth, throwing in various elements here and there that set them apart in their own way. Proof lies in "Center of the World," a blend of acoustic symphony and electric harmony, making for an auditory delight like no other on the album. This formula is repeated on the title track with smashing success and slight variation; there's more prominence on the strings during the verses, and the chorus explodes with worshipful energy. After thirteen songs and nearly an hour of music, there's little complaining to be done about Perfect Change, and honestly there's not a skip-worthy cut on the entire CD.
With so many lyrics about emotion and struggling, what exactly does Dakona want us to take home after listening to Perfect Change? I think the chorus of their title track probably says it best: "You, you make it so easy / you've got a perfect change / a perfect change for me." While the band reminds us that the hardships we endure are a part of life on this earth, they also point to our Heavenly Father as the remedy for suffering. As you listen to Perfect Change, try to imagine where you'd be today without God, without forgiveness, without Christ's death upon the cross. Suddenly the entire album sounds divinely inspired.