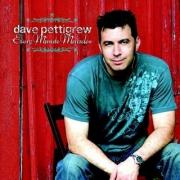 As odd as it might seem for a pop/rock artist with such a formidable singing voice, Dave Pettigrew didn't spend his teen years before a full-length mirror learning to emulate powerhouse vocalists like Robert Plant, Luther Vandross or even Steve Perry. On the contrary, it was at the tender young age of five that Pettigrew's unlikely musical education began in earnest as he stationed himself in front of the family TV each week to catch a glimpse of Lennie Baker playing saxophone for doo wop revivalists Sha Na Na on the group's musically-based late `70s sitcom. Sufficiently impressed, he not only took up the instrument but continued playing it all the way up to the time of his entrance into the prestigious Berklee College of Music in Boston. In fact, it wasn't until after he'd already been accepted to Berklee that Pettigrew first discovered, and subsequently decided to hone, his latent vocal talent.
One listen to his sophomore effort should be enough to convince most listeners that the decision was a wise one. Indeed, Pettigrew's sturdy, sure-footed singing is the perfect complement for the stellar leadoff cut, "Change (Follow Me)," a gritty, rock/country/blues hybrid that calls to mind the very best works by everyone from Springsteen and Mellencamp to the Black Crowes and Train. The equally stimulating "What Would I Do" finds him taking on gospel and blue-eyed soul with similarly convincing results. On the softer side of the equation, Pettigrew possesses a vocal clarity and control that help polish the 4Him-inflected pop of "Proof of You" and "God's TV" to a near-irresistible sheen. Perhaps the best showcase for his talent, though, is the exquisite, piano-led ballad, "The Best That He Can Be," which allows the purest look at Pettigrew's crystalline singing voice and, in itself, justifies the price of admission for the album.
Interestingly, despite the tangible sense of enthusiasm that cuts across the bulk of both the faster and slower tracks, a large portion of Miracles is given over to what might be considered darker thematic elements. This hardly represents a liability, though. On the contrary, songs like "What Would I Do" (It's so hard to understand/ What it is about me that keeps you comin' back) balance their depiction of human neediness with a correspondingly vivid portrait of the steadfastness of God. "With My Faith" is likewise careful to stitch together its narrative of uncertainty with a thread of trust. And first-rate cuts such as "Proof of You" ("Won't you give me a sign/ Throw me a line/ Maybe this time/ I'll find my way to you") are instilled with a refreshing, no-holds-barred honesty that ultimately renders them as encouraging as they are poignant.
The record does lose a bit of steam toward the end, and not all of its tracks are as instantly memorable as "Change" or "The Best That He Can Be." That said, despite its indie markings, the project sports an absolutely topnotch production aesthetic – crystal clear, and yet not so glossy as to strip the music of its underlying grit – that renders it a work of consistent beauty. Likewise, even on those rare occasions when the energy level flags, Pettigrew and his band compensate with a commanding precision and tightness that renders even the album's least animated cuts no less than thoroughly engaging. Perhaps the strongest selling point, though, is the way Pettigrew's words flow just as smoothly off the lyrics sheet as they do within the context of their respective songs – an acid test that is deceptively difficult to pass. And it is this lyrical sharpness, together with the aforementioned production savvy and superlative instrumental skill, that ultimately renders Every Minute Miracles one of the most solid and consistently appealing independent releases of the past year.