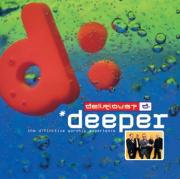 Try as I may, I cannot say it better than the text on the back of the Deeper cover: "…but the numbers, the chick, the polish are all unimportant: what has been truly impressive about the Delirious? journey so far is their, well, it's their journey…"
When word got out that Sparrow (Delirious?'s US label), was not immediately going to release their new disc Audio Lessonover?, fans were disappointed to say the least. Instead, Sparrow decided to compile a two-disc worship album, spanning everything Delirious? did before Glo. Why they decided to do this is still not entirely clear. Perhaps to capitalize on the current strength of contemporary worship in the US (which is partly due to Delirious? in the first place…). Be that as it may, in their eagerness to get their hands on AL?, fans have tended to write off Deeper as music they already have, presented in a new cover. And while this is partly true, Deeper certainly has its merits. In fact, it was so successful in the states that Furious? records decided to release it in the UK as well.
It is difficult to describe Deeper. Is it a "best-of" compilation, or an "early years" disc? A worship album or funky pop/rock? As usual, the d:boys just can't be pinned down. Deeper is all of these things and yet, at the same time, none of them. Even though the album contains mostly old music, Delirious? has managed to shift the boundaries yet again...
Deeper contains 25 songs, the same number as on the Cutting Edge discs. Thirteen of these songs actually come from those very same discs. The other 12 are made up of songs coming from the two consecutive studio albums King of Fools and Mezzamorphis, including one new song ("Not Forgotten") and one that hasn't appeared on a Delirious? studio album up till now ("Come Like You Promise"). Also included are several new versions and remixes of old songs.
"Did You Feel The Mountains" is probably the new recording that sounds most similar to the original, something fans will appreciate. But still, the d:boys have changed the song in small but significant ways, making this new version a true masterpiece. When I first heard it, the thing that immediately struck me was how much Martin Smith's voice has matured over the years. His voice soars above the music, clearer and sharper than before, adding true d: passion to the lyrics. The Australian digeridoo employed in the original version of "Mountains" is much more prominent this time round, adding an earthy authenticity to the song. One of the exciting new bits is where all the music stops and you just hear Martin proclaiming "Open up the doors…!", backed by a choir of other voices. Then the drums and guitars jump into the mix with renewed fervor, taking the song to new heights. This is soon followed by a part where Martin shouts, "Here we go!", and then leads the choir in singing "la-la-la-la" in tune with the chorus. This is the highlight of the song and the place where you just want to sing those doors open with all you have within you. Like the original, the song ends with two minutes of spontaneous worship, clocking in at over 9 minutes.
"Mountains" is followed by the new version of "I Could Sing Of Your Love Forever", and this is where it really gets different. The influence of Glo is definitely evident in this recording, and while the original was very church-friendly, this one is probably not. The song starts off sounding very angelic, with organ-like keyboard music and soft backing vocals, but when the drums and electric guitars join in, they give the song a melancholy feel, somewhat unexpected for such a joyful song. This feeling is heightened by the use of a triangle, xylophone and lots of bass guitar. After the bridge, the choir bursts into true splendour, led by some very strong female vocals, giving the song a sort of gospelly feel. Some people don't like this reworking of the song, especially those who are used to singing it in church. But if you give it a few spins, you realize the true beauty and artistry displayed here. My hope is that we will praise like this in heaven one day.
The other song that Delirious? chose for re-recording is the perhaps less well known "Lord You Have My Heart" from Cutting Edge 1 & 2. The Glo influence is once again prominently displayed on this track. The subtle music and vocals of the original is replaced with stronger drums and guitars, and some haunting keyboard work by Tim Jupp. The boys continue their infatuation with strong choir music, and once again employ the gospel style female vocals, all contributing to a different but extremely passionate new recording.
"Not Forgotten" is a true d:anthem featuring a big choral sound. Combined with a captivating melody, it includes some of the most powerful lyrics penned by Martin in recent times: "Love is bigger than oceans / Love is given to me / Grace is bigger than history / Grace is given for free / And we'll keep the flame ablaze / He, will not, be forgotten, be forgotten…" A brilliant worship song, although the choir ends on a distinctly discordant note. Whether this is deliberate or accidental is open for speculation – one never knows with these guys.
The first disc is rounded off with normal versions of some other classics, including "Deeper", and the more recent favourite "Follow". The disc is closed fittingly with "Kiss Your Feet", one of Delirious?'s most sincere and humble songs to date.
The second disc kicks off with a "remix" of "Happy Song", but it's not really different from the original. Basically it starts off with someone counting "one, two, three…" instead of the usual harmonica, and the drums sound slightly fuller. (The track was mostly just remastered.) Fans were probably rather hoping for "Happy Song 2000", a more recent version performed at d:concerts. Similarly, "Revival Town" is not much of a remix – an extra bar was added to the UK version. The version of "Jesus' Blood" included here might be new to UK fans, but not to US fans, as it's taken from the US version of Mezzamorphis. The other songs are all original versions. (I must point out that for the first time it is actually possible to read the words of Obsession – they were completely illegible on Cutting Edge!)
A definite highlight on the second disc is "Come Like You Promise", the only track not coming from Cutting Edge, King of Fools or Mezzamorphis. The song will be familiar with owners of Live and in the Can and D:Tour 1997 Live, however. This version appeared on the Listen: Louder compilation a few years back – it is the only studio recorded version of the song. Full marks to the d:boys for including it: it's a rocky, U2-like praise declaration, and it's just pure Delirious? bliss (no pun intended…).
Screaming in their absence are some classics like "Louder Than The Radio" and "All I Want Is You" from Cutting Edge, and "See The Star" from Mezzamorphis, to name but a few. Then again, you can only put so many songs on two discs. And there is no song on Deeper that you can even think of leaving out.
All in all, Deeper really is the definitive worship experience (and so much more…). It will never be able to replace Cutting Edge, King of Fools or Mezza, but it certainly is a worthy addition to the d: discography. Fact is, if any band can claim such an amazing collection of music after just ten years in the biz they can be very proud of themselves. If you haven't discovered Delirious? yet, this is as good a start as any. In fact, fan or no fan, if anyone asks you what this Christian music you listen to is all about, stick this album into their hands, and if they don't come back and tell you this is great music, they're either lying or something's wrong with them!
If you are a fan and you're on a budget, you might want to give Deeper a skip for now – after all, you probably have all these songs anyway. Be sure to get it at some stage, however. Believe me, you just don't want to miss out on the new gems hidden here. On the other hand, if you wanted to buy some of the older Delirious? albums but you didn't know which to start with, here is the opportunity you've been waiting for. All in one neat, powerful, two-for-the-price-of-one package.
Whoever you are, I can promise you that you'll play these discs again and again and again. Delirious? have come to remind us again what worship, music and being the flag bearers of a generation is all about. So, what are you waiting for?