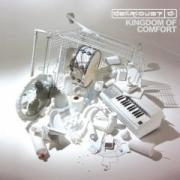 I first encountered the band Delirious? ten years ago, shortly after the release of their single "Deeper." I fell in love with the song on the first listen. I remember being one of a small percentage who had heard of Delirious? when they played an early slot on the opening night of Creation East that year. Soon we heard tracks like "I Could Sing of Your Love Forever" and "Did You Feel the Mountains Tremble" not only being sung by Delirious? but by church worship teams and other CCM bands. I scarfed up all those early discs that Sparrow put out after D? made such a buzz over here.
Next I added Mezzamorphis and Glo to my collection. Upon the realization that these discs had been only spun a few times, I gave them away. I decided that from then on, I would not buy D? albums on sale during the week of release unless I had heard the songs in advance and I was certain I still liked their music. Throughout the period from then until now, I have always loved to see the D? boys live, and on occasion I have purchased an album.
I am here to tell you to consider buying Kingdom of Comfort the week of release. From the first listen, my eyes popped out at how glorious the music sounded. Perhaps it catches a bit of the live experience. Perhaps it was the step-up in the guitars. Perhaps it was the lyrics. Perhaps it was all of these. In the end, after a few listens, I came up with five reasons to add this music to your collection.
Twelve tracks
Recently, I have been disappointed in the number of tracks on CD's being released. I am sure it has something to do with the music industry budgets. But I am one of those folks who still buys CD's instead of one or two songs. One disc that recently passed my desk had only nine tracks (?!!!?) So when I saw twelve tracks, I was excited. And, the twelve tracks all have a unique sound that ties them together as a whole. It's worth the money to buy it all.
The main theme
The lyrics on Kingdom of Comfort stem from trips to such places as India and Cambodia. Seeing children looking for scraps on the rubbish dump they call homes in Cambodia and the education and feeding projects in the slums of Mumbai [India] really had an impact on us," says lead guitarist Stu G. "It wasn't possible to simply proceed with business as usual. We had to ask ourselves, 'What am I building? A kingdom of comfort? Or a kingdom of heaven?'"
The 'repeat' song
When I am getting into music on the first listen, I often stop at a "The 'Repeat' Song." Sometimes it plays up to ten times before I move on. The 'repeat' song on this album hit me at track 3, "Give What You Got." This song got me so revved up, I am surprised that I did not run through a stop sign while driving. This is classic guitar-driven rock! "We have got to give it all we've got because we've only got one life!" I can't wait to hear it live.
The anticipation of a concert experience
I can imagine quite a few of these songs live. "Stare the Monster Down" is another song with some healthy guitar progressions that make me want to jump up and down like I do at a concert. Not such a good idea when you are driving down the street. "Is there, is there a place in your arms of love strong enough/will you carry us, carry us?" The song is about the monster in our lives, whatever it may be, that stands in our way and desires to take us down.
Martin Smith's lead vocals
"How Sweet the Name" showcases Martin's voice in a way that I don't recall having heard before. "So many songs I have sung, but there's none more beautiful than you" sums up the song's main message. Simple piano chords with a hint of cello provide the background music until the last progression where additional instruments are added. In the words of Martin himself, "The musical ending is the perfect juxtaposition to the serenity." I could not have said it better.