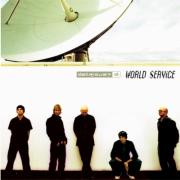 When you have an album from a band like Delirious?, you have to set the standard at an incredible height. Cutting Edge, King of Fools and Glo continue to be the benchmark for many Christian albums years after their respective releases. Even 2001's experimental Audio Lessonover? had fantastic properties (before it was fed to the US public as the regurgitated Touch). So how does their latest effort hold up against their previous standards? Well, that all depends on how you judge your music...
From the first strains of track one, it's obvious that World Service is there musically. All their trademark rock/pop sensibilities have been honed down to a stunning art, with layers of keys, vocals, bass, guitar, and drums—everything you might expect, and perhaps a bit more. Jon's bass goes off on little adventures beyond the known territory of root notes in search of some stunning riffs, while an extra portion of Martin's worship-heart pours out through his vocals. "Everyone Knows," "Rain Down" and "Every Little Thing" are the highest of the high points. Strangely enough, "Majesty (Here I Am)" (the track that was offered on the Delirious website as a teaser for World Service) is one of the weakest tracks on the entire album.
Lyrically, World Service is little more than a "ditto" to so many other praise and worship albums. Take the chorus of "I Was Blind:" "I was blind, but know I see / I was broken, but you carried me / I was lost, but now I'm found / I was guilty, but you turned me around." Martin also reverts to trite uses of water-related symbolism in "Grace Like a River" and "Rain Down." A notable exception is "Mountains High." The heart-wrenching account of sorrow and faith is one of the best songs in recent history. All tracks are still incredibly worshipful, but it's entirely too obvious that almost every track on this album was crafted for the singular purpose of easy-to-learn corporate worship songs. This album would have been absolutely out of the park if we had seen some lyrics that hearken back to the Glo or King of Fools days, rather than this slightly shallow fare.
So World Service has its good and its bad. All in all, it's a commendable album. At the very least it is enough to prove soundly that Delirious? still has the ability to produce good music. That goes a long way.