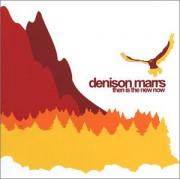 Denison Marrs quote Ecclesiastes in track # 6 on their latest album: "there is nothing new under the sun." Though they doesn't do it themselves, it's easy to apply that verse to rock music today. One of the more popular new stars in my corner of Canada is Sam Roberts (a more obvious Beatles plagiarist cannot be found), and it seems that most other bands are a variation on some theme born in the middle of the last century. Even the retro blah of the '90s has been topped by most rock offerings in Century 21. As DM seems to suggest with the title of their latest, Then is the New Now.
It should be pointed out that DM is a part of this trend—one of the offenders who borrow liberally from their forebears (Incubus is Then to their New Now)—but the simple fact that they acknowledge it is refreshing. And thankfully they've improved on Incubus' formula—most notably in the lyrics. (Example: Incubus once invoked the worst simile in the history of the world by likening the night sky to a backlit canopy with holes punched in it.) At the end of the day, it's those lyrics that make TITNN worthy of the plastic it's pressed on.
The band explores themes like purpose-filled living, finding true love in a sea of pretence, burying pride, Christ's great "rescue mission" and supplication. They find themselves enthralled, humbled and bemused by God (especially in "Keeping it Cool") and always seems to point listeners in His direction. From a lyrical standpoint, they put their best foot forward first with "What Life Has," which is to troubled, purpose-seeking souls what Delirious?'s "History Maker" was to inspirational worship. The songwriter remembers times of hermitic living and self-loathing, finds God, and shifts to the present with a repeated chorus of "I want to live for something / I don't want to die here anymore."
Musically, consistency rules the day. The band has an obvious knack for mid-tempo rockers—often driven by bass and drums—that are sometimes weird and adventuresome and other times very plain. "You Feel Like" is perhaps the best example, with a highly distorted chorus and clean verses frosted with broken guitar chords that are, dare I say, finger pickin' good. Only one track, "Rescue Mission" (the album's best, by the way) is truly mosh-worthy, but many others come close.
Their consistency, however is also their largest fault—many of the songs sound like dead ringers for others, with only the lyrics to truly distinguish them. They should be commended for not trying to please all listeners, but with that trait comes a price: out of ten tracks, only about half are truly unique. If "You Feel Like" doesn't appeal to you, neither will the rest of the album.
It's probably true that rock music hit a wall in 1979 that it hasn't yet been able to climb over. Only the words and the context in which they are heard have changed. Denison Marrs diagnoses this problem with Then is the New Now, and though they don't seem to offer much in the way of a solution, they at least have a sense of humour about it.