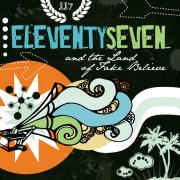 Just as eleventyseven walked off the stage the first time I saw them live as the opening band for Superchic[k], my fellow concert security friend exclaimed, "Hmmm… These guys could be the next Green Day." While I cannot predict the future, I can pronounce that this trio is the best new offering I have found in the pop-punk genre in CCM for at least two years. I do admit, however, that musically this new band is nothing that I have not heard before. Lyrically, on the other hand, eleventyseven is out to set a more positive tone.

But don't be misled by the album title, and the Land of Fake Believe. The concepts expressed in the lyrics are not all fun and games. If you go beyond the song titles, often there is a much deeper message.

I was first intrigued by the mature sound of "More Than a Revolution" soon after it was released to radio earlier this year. Before long the catchy tune found me singing along. But the encouragement to go deeper than just talking about the latest fad - to bring about a major change - had me pondering what I could do to sincerely make a positive influence in the world rather than simply talking about it.
I was then introduced to the second radio single "Myspace" during the aforementioned live set. Another upbeat catchy tune with obvious pop-punk rock overtones, "Myspace" can be summed up with the chorus, "I know that it's wrong to form an opinion on only what I see / But in my defense it's really hard to know when Myspace is the only thing that you'll ever show." It has been my experience with many new bands that the first one or two radio singles are the best songs on the album, and it goes downhill from there. I was pleasantly surprised with the remaining songs on and the Land of Fake Believe. Lighthearted songs like "Teenage Heartbreak" (no further description needed) and "Anti-Adieu" (a fun song about childhood crushes) carry out some of the experiences that these young men have not too long ago encountered. Yet, even as an older adult, I found a connection to these songs.
On a more serious note, "Odds and Even So's" reminds us of the people among all of us that are treated as outcasts and who yearn for the love and affection we all desire. "Maybe someday soon when she is alone / She'll decide to take a life that is not her own" is the line that awakened me to remember those who often feel rejected. The music tones down a bit with songs like "Here With Me" and "Reach That Far." Though some may discern that "Here With Me" is about a relationship with God, it is actually a love ballad written to a girl. "Reach That Far" is a struggle to remember that God is with us no matter where life takes us. This three-piece outfit from South Carolina packs a powerful punch far more mature than most freshman releases. The mix of drums, bass, guitar and keyboards, together with thoughtful lyrics, make and the Land of Fake Believe one of my favorite releases this year.