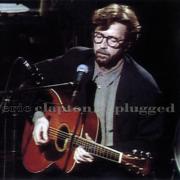 In the 1960's, it was not uncommon to see the irreverent phrase "Clapton is God" scrawled across subway stations, back alleys and various other public places. The Clapton referred to was Eric, of Ripley, England. And they almost got it right.
In a day and age when every snot-nosed prodigy to put a decent solo together (Kenny Wayne Shepherd, Derek Trucks) or geezer with staying power (Keith Richards) is deemed a guitar "god," Clapton was the original. And while he will obviously never live up to the title of Almighty, he comes as close as virtually any guitar legend in history.
From his early days with the Yardbirds, John Mayall and the Bluesbreakers and Cream to his immensely successful solo career, Clapton has always been a little bigger than his hype. Though at his roots strictly a blues guitarist, Clapton has incorporated that style into the avenues of hard rock, psychadelia, folk and all points in between. The most commanding evidence of that versatility is Unplugged.
Understated Elegance
As stated, Clapton is at heart a blues fiend, and remains true to his roots on this recording. He tackles a number of bluesy tunes, including "Before You Accuse Me," "Hey Hey," "Malted Milk" and several others with the word "blues" right in the title (just so there's no confusion). Though they may not satiate those expecting top 40-friendly hits such as "Tears in Heaven," any fan of the B.B. King or John Lee Hooker will be on cloud nine. One must also marvel at Clapton's technical mastery. He breathes life into tunes by Robert Johnson (of whom Clapton says "to me, [he] is the most important blues musician who ever lived) and several other obscure bluesmen.
Most captivating, though, is the material penned by Clapton himself. The first (and best) track, "Signe," is a rollicking instrumental arrangement in which Clapton and fellow guitarist Andy Fairweather Low toss variants of the same riff back and forth, improvising here and there for effect. The effect is difficult to describe, but the song is more appealing than most of the remaining tracks with vocals.
"Lonely Stranger," though melancholy in its lyrical scope, is a sauntering, thoroughly affable tune in which Clapton resigns himself to a solitary existence. Though not the wisest of life choices, this seems true to Clapton's personality. He was an outcast as a child, and may never have grown out of it.
One can almost see the lighters waving in the audience.
"Old Love," which was co-written with blues legend Robert Cray, expresses frustration over the nagging presence of an old flame ("Old love/Leave me alone...Just go on home). It should be noted that the lyrics hint that this was an adulterous relationship ("I can feel your body / When I'm lying in my bed"), but may be in reference to one of Clapton's former wives. The tune is bass driven and has a groove as big as the grin on that guy from MAD magazine.
Then, of course, we have "Tears in Heaven." Written for Clapton's deceased son Connor, the songwriter ponders whether or not Connor would recognize him in heaven. He then accepts that he "must be strong/And carry on." Clapton takes an interesting role on this track, surrendering the lead guitar role to Low and strumming a rhythm pattern.
Also of note is the artist's re-working of the hit "Layla." The original was driven by a searing electric guitar riff, but loses that to a strummed series of power chords in the translation to this all-acoustic band. Though purists may view the arrangement with noses upturned, the acoustic version remains the most popular variety on mainstream radio stations. And it's quite possible that the solo observed here is among the best ever performed on an acoustic guitar.
Summation
Many of the songs on this album are not Clapton's, but those which are his are indispensable. This is a must-have for any aspiring musician who's ever picked up an acoustic guitar.