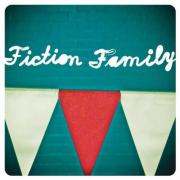 Having spent over a decade touring and recording with their respective bands — Switchfoot and Nickel Creek — both Jon Foreman and Sean Watkins have strayed from their well-known sing-along choruses and strong guitar accompaniment to a more stripped down, darker release. While it takes a few listens to fully understand the depth of this disc, Fiction Family proves the versatility and staying power of both musicians in a time when not many bands are leaving their comfort zones.??
Calling themselves Fiction Family (despite Foreman's wish for the Real SeanJon) the Watkins and Foreman project formed after a few chance encounters at a local coffee shop in their San Diego hometown. After the urging from friends to collaborate over the years, they decided to give it a shot — never expecting a completed release. Taking turns singing lead vocals and alternating between multiple instruments including guitar, bass, keyboards, percussion, baritone, ukulele, piano, organ, mandolin, steel guitar and 12-string guitar, the 12-song self-titled debut will be released January 20 on ATO Records.
??A major deviation from each musician's more well-known projects, Fiction Family presents an emotional musical journey for the listener. Lacking flow at times, the disc presents itself more as being experimental — tossing out the rules and expectations throughout the recording process. In fact, in some instances, Foreman and Watkins didn't even make the tracks together. While one was touring, the other would add parts to a song, then leaving their product for the other to work on when he got off tour. Which, at times works better on some songs than others.??
Beginning the album with first single, "When She's Near" the listener hears bells, tambourines and light guitar strumming before Foreman's voice enters. Almost soporific, Foreman's singing style doesn't belt out as vigorously as many Switchfoot fans may be used to. Not a complete loss, Foreman's singing does blend well with the musical?accompaniment throughout many of the tracks on Fiction Family.
?Most of the album revolves around relationships and, like often in life, are made up of heartbreaking stories (see "Betrayal," a melancholy song that walks you through a friend murdering his best friend with a fitting, almost funeral-like horn feature at the end of?the song) and brutal honesty (see "Not Sure" lyrics, "I'm not sure that I'll get over you/I'm not sure that I want to").??
"Throw It Away" seems a bit more uplifting lyrically than previous tracks. However, the slow and hushed guitar strumming and string accompaniment accented with Foreman's saddened vocals beg the listener to question as he sings, "Throw it away/Give your love/Live your life/Each and every day/Keep your hands wide open/Let the sun shine?through/'Cause you can never lose a thing/It belongs to you."??
There are strong sections on Fiction Family, but also some peculiar segments as well. One example is "Please Don't Call It Love" where there is an unexpected haunting close, reminiscent to what it may sound like when walking into a haunted house. Either way, fans of Switchfoot and Nickel Creek will surely enjoy the album and embrace the uniqueness and new roles of each musician. If anything is certain of the release, Fiction Family presents an anomaly, the listener never really knows what to expect. But, after all, isn't that what music is all about in the first place?