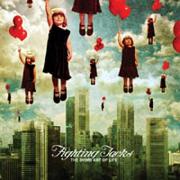 Although most would insist that the infectious lightheartedness of ska and the often gut-wrenching melancholy of emo make the two veritable polar opposites, the genres, in their current forms, are actually much closer cousins than most people would imagine. While artists like Fishbone and the Mighty Mighty Bosstones were busy appropriating the inherent speed and volume of the hardcore punk movement to fashion a more potent strain of ska during the Third Wave ska revival of the late '80s, others, such as Fugazi and Sunny Day Real Estate were marrying hardcore's undergirding spit and vinegar to a more deeply personal set of lyrics to set the emo rock movement in motion. It would seem a safe bet that Casey and Cory Linstrom are well aware of the association. After a pair of ska-punk albums under the Freeto Boat moniker during the late '90s, the brothers have reemerged as the Fighting Jacks for their Tooth & Nail debut, The Dying Art of Life.
Mixing in equal parts emo, indie rock and punk-pop, the new record shows the Linstroms, along with longtime guitarist Mike Wright and new drummer Jon Sontag, serving up a particularly inviting musical stew. The rousing leadoff track, "Farewell Senator," brings things to a delightfully quick boil by virtue of its barreling rhythms and screeching guitar lines. "Commons and Robbers" and the best-of-album "Glass Table" toss in heaping measures of soaring, frenetic guitar work, while "Unfinished Song" adds a dollop of always helpful post-punk sensibility. "Some Say" and "Year of the Dead" pepper things nicely with their engaging prog-rock-meets-post-grunge approach. Over it all, the San Jose foursome cap things off by simmering their concoction over a loose, stripped-down instrumental flame which anchors their indie credibility firmly in place.
To be equitable, a fair portion of the Life record is saddled with the sort of overly generic aesthetic that renders the affected tracks mostly indistinguishable. And the FJ quartet's occasional inattention to hook and melody means that much of the album sails just wide of the instantly memorable mark. That said, the Linstroms and their cohorts exhibit a raw, heartfelt energy and attention to lyrical detail and depth that largely elevates the Life effort above its intermittent musical limitations. Indeed, when the group finds the proverbial sweet spot, which it does more often than not, the results are dazzling. A substantial improvement over the group's previous ska-related work, The Dying Art of Life shows the Jacks fitting comfortably and competently into their new roll as emo and post-punk purveyors. A very solid second beginning.