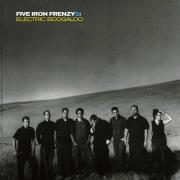 I had been curious about Five Iron Frenzy ever since I read an article about the lead singer's college roommate who carried a golf club (a 5 iron, to be specific) for protection with him wherever he went. My curiosity grew even more when I read yet another article about how the band believes that "squirrels are single-handedly responsible for government corruption, the greenhouse effect, and food shortages." I purchased the new album not too long after the 11/20/01 release date of FIF2: Electric Boogaloo. After my first intense listen of the album, I was surprised at the sound of a furious, whooping guitar instead of the more expected choir of horns. According to bass player Keith Hoerig "It's the most rock and roll record we've done. And as a whole, it's probably the most aggressive record we've done."
Having never heard any previous recordings of the band, I decided to do my research on the band's past albums. Every fan I talked to and every website I visited said that Electric Boogaloo is completely different from any other work previously released by FIF. Yet most fans and critics alike seem to agree that this album is also the band's best work musically, lyrically, and spiritually.
Songs on this album reach all hemispheres of subject matter. Some are simply fun ska/punk anthems ("Pre-ex Girlfriend", "Plan B", "You Can't Handle This"), some deal with pressing issues ("The Day We Killed", "Blue Mix") while some dig deep into the Scriptures to tell a story or to cry out to God ("Farsighted", "Spartan", "Vultures").
The album opens with "Pre-ex Girlfriend," the fun lyrics and rockin' sound of a self-conscious man who claims "that girl is way too good for me/we'll break up before it starts." Just a hop over from the opener is my personal favorite song on the album, "You Can't Handle This," which is a total nerd anthem: "Beneath my icy stare/I've got a retainer/maybe I'm the physics main event/maybe I'm the chem club president/maybe even Texas Instruments thinks that I'm coplanar/if you're up/ and if you want/ a piece of me/ wave goodbye and blow a kiss/ cause you can't handle this". Track 5, "Spartan," is quite a set of deep-set, thoughtful lyrics: "Why is love so painful/why do we always lose/paving pathways for the lost/the bitter, and recluse?/He said "love endures all things"/and it hurts to think it's true/did it nail Him on a cross/did it crucify him too?".
Track 11, titled "Car", was written by saxophonist Leonar "Jeff the Girl" Ortega in memory of her brother who died last fall. This heart-wrenching song has a hard angst sound, yet somehow brought across with a message of hope: "Imagine you held so tight your best friend/ left him to fly/ and never could reach him/standing at the peak where two waves meet/ are you just behind the other side of music/ peering like a flower never taught to grow/ someone fond of living always will remember/ we are blessed/we endure". "Car" is the only song not written by lead singer Reese Roper (although "Eulogy" was co-written by Dennis Culp, the trombone player).
The album is even educational, giving dictionary definitions of some of the song title words such as "Spartan" and "Juggernaut". Not only did I learn some fun SAT words while listening to this album, but I've also learned about the title of the song "Blue Mix". "Blue-mixing" is a term used to describe when headlining bands put limiters on the sound of the opening band(s) so that the headlining band sounds the best. Many bands charge other bands to go on tour with them or even force the other bands to sell their shirts for more so the headliner can justify selling their shirts for more. Lead singer Reese Roper commented, "I can understand that in the general market, because it's all about making money, but the Christian market is supposed to be about saving people and encouraging people. It really bothers me how often that happens in the Christian industry." Kudos galore to Roper for risking criticism by bravely stepping on the industry's toes!
This album, simply put, is GREAT. The vocals are emotion-ridden. The lyrics are strong, but they also accuse and cry out for help. Furthermore, the members of Five Iron Frenzy possess some of the strangest personalities in all of the CCM world. Listening to the album for the first time was one of the greatest consecutive 39 minutes and 27 seconds of my life.