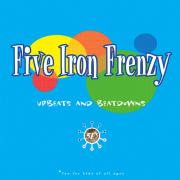 At first glance, this gang may seem a little strange, maybe a little demented. Their lyrics heathen and their music too loud, but second glances show that this crew has a heart for Jesus. One of the top ska bands of today, Five Iron Frenzy is rating up there with groups such as Supertones and Insyderz. Their lyrics are truthful, their music jumpy and exciting, and the band members have such a sense of humor that you can't help but love them.
Their first album, Upbeats and Beatdowns doesn't seem to have a distinctive underlying theme to it. Five Iron Frenzy's spontaneity is quite evident on this album. The first track titled, "Old West" starts off with some hard electric guitar and a shout from the lead singer, Reese Roper. This song is upbeat, talking about winning 'points' with God and that preachers try too hard to win souls. They yell, scream, kick, and force people into living for Jesus, but Christ never did that. We need to be like Christ.
With the beginning of the next track, "Where Zero Meets Fifteen," the distinctive trumpet blasts its presence into this album. This is a most disturbing song if you read only the verses, but as the music breaks into the chorus, the theme for this song becomes clearer. It speaks of a man trying to witness to people and no matter how hard he tries, he feels like he can't get through to the people. He screams out to God for help, just like we do when our frustration gets the best of us. As the this song fades out and the next one starts up, you're greeted again the trumpet and trombone.
"Cool Enough for you" reveals the message of fads and fashion. How people's 'coolness factor' doesn't make up who you are in God's eyes and how this band has learned not to care if people don't like them is the theme in this song. "Our assurance comes from God ~ It's nothing new, we'll never care ~ 'cause we're never cool enough for you". Track number 4, "Anthem," speaks of a nation that's not living in freedom, but bondage. But even if our country doesn't offer freedom, Jesus Christ does. He's the one true freedom we can rely on.
A jumpy tune makes it's way onto the scene as the next track opens up. "Faking Life," the only song on this track written by Jeff, a.k.a. Leanor Ortega, talks about the repentant person needing to have God in their life. With the added trombone solo, this song makes you want to get out of your chair and do a little dance. "Arnold, and Willis, and Mr. Drummond" happens to be one of those tracks that leaves you with the question of 'huh?'. Five Iron Frenzy likes to leave you guessing at this song. It's a total nonsense song that only serves the purpose of making you laugh and loving this band for their crazy antics and creativity.
"I Feel Lucky" starts off a little differently than the other songs of this album. Slow and almost mellow, it speaks of that superstitious person and how all they believe is luck. But we can't live on luck, because as the song concludes "[there's no such thing as luck]". Of course, Five Iron Frenzy can't leave you thinking that they're getting more mellow, so they throw in "Milestone" which leads off with some crazy drum stunts and radical guitar moves. As Christians we can't think ourselves better than non-Christians just because we have something that they don't. We need to remember WHAT we have, and that's Jesus. We can't be their judge. We need to leave that to the One True Judge and not point fingers.
One of my favorites is the next track, with a catchy tune and vocals by Dennis Culp, originally the trombone player, "Beautiful America" is a song about America's present state. It compares America to the Biblical city that God sent his wrath on, Gomorrah. Their truthful lyrics are definitely shown in this track, "In America it's wonderful, all you do is fake it. Own anything you want all have to do is take it. Live for today, don't think about tomorrow, have a good time in America-Gomorrah."
"Combat Chuck" is about the Christian today. We are filled with the Holy Ghost, we want to be like Christ, and we want to be helpful. Chuck is all of these things and more. This song features some awesome guitar and drums. The next track is an awesome song about unity in the church. Appropriately titled "Amalgamate," it speaks of the church's disunity and how we need to pull it together and stand against the devil. The people of the world need to see Jesus in us, so we need to stop the fighting and pull it together and stand as one.
Taken from Amy Grant's "Everywhere I go", Five Iron Frenzy turns this song into their own ska version. Same words, but crazier music, this song reflects Five's style once again. "A Flowery Song" is a wonderful praise song to God, featuring all the instruments together again. They combine to make this song a hit about praising God for all the wonderful creatures and beautiful things of the world. "Praise God from whom all blessings flow, praise Him all creatures here below, praise Him above ye heavenly host, praise Father, Son and Holy Ghost." Before they close with the chorus again, you hear what seems to be animals. It's really the different members of the band, but even this silly piece can speak a message. Animals, large or small, short or tall, ALL praise God in their own way.
Finally, the album closes with the last track, "Third World Think Tank." This song isn't like all the others because they combine ska with country, another crazy stunt only to be attempted by that fearless band Five Iron Frenzy. It sings of the fact that everyone dies someday, so why not get your life with God on track right now. We need to give all we can for God.
Purchasing this CD would be a steal. You get 15 tracks from a wonderful band. Reese Roper is a wonderful writer. His lyrics are hysterical and whimsical, yet they send out a message as well. This band can make you laugh, laugh some more and then think about God and his wonderful power.