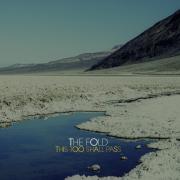 To be fair, the list of groups from whence the Chicago-based quartet The Fold sprang hardly reads like a who's who of rock royalty. But while names like Starstruck and Espin 12 are likely to draw blank stares from all but perhaps a handful of moms and ex-girlfriends of the former bands in question, the punk-pop foursome Showoff was at least marginally more successful in its attempts at hitting the proverbial big time. Formed in 1997, the band released only one album, a self-titled effort for Warner Bros. in 1999. During their tenure, though, vocalist Dan Castady and his cohorts managed to place their leadoff single, "Falling Star," into the lower reaches of the modern rock Top 40, while the follow-on single, "Spill," had the (arguably dubious) honor of being featured on the Digimon movie soundtrack. Despite the aforementioned exposure, the group decided to call it quits in 2002.
Stepping away from the punk-pop inclinations of the Showoff years, Castady steers his latest assemblage of musical mates into what might be considered more mainstream-friendly territory for the inaugural Fold outing. "Gravity" and "Backseat Drivers" kick things off in first-rate fashion, thanks to buoyant melody lines, chunky guitars and a sparkling classic-rock-meets-emo sensibility sure to place the Maes, Gin Blossoms and Loverboys of the world on full alert. "New City" continues the winning streak, lacing shimmering, mid-tempo pop with lyrics that dart deftly between sober ("This city's colder than it used to be / I wonder / Can anyone else see") and optimistic ("Midnight is where the day begins"). The ostensibly tongue-in-cheek "The Title Track" rounds out the impressive initial four-song set with an irresistibly joy-filled fusion of punk, teen-pop, new wave and emo.
Although the next handful of songs pale slightly compared to the opening quartet, they nonetheless have much to recommend them. Castady and second guitarist Aaron Green fill "Going for My Lungs" to the brim with loose, slightly dissonant guitar work that pulls the listener slyly into its swaggering grooves. The quirky, slightly off-balance lead guitar runs of "Evermore" and "Remnant," while admittedly an acquired taste, are ultimately likewise absorbing. And even though "Rid of Me" lacks the sheer careening exuberance of, say, "Gravity" or "The Title Track," its insistently driving rhythms, together with Castady's passionate vocal delivery, render it an unqualified triumph.
Despite a strong start, the Fold lads follow the album's impressive opening and middle segments in decidedly lackluster form. "Stay" begins promisingly enough, thanks to its crystalline acoustic guitar intro, but disintegrates soon thereafter into a melange of out-of-tune vocals and overly generic instrumental backing. "We've Been at This" is bolstered by the engagingly uneven rhythmic aesthetic of "Remnant" and "Evermore," but lies in woeful want of the those two songs' far-superior melodic content. And the pleasant yet ultimately unmemorable "Surrounded" does little to rescue This Too from its final section tailspin, sounding enough like both "With You, I Sink" and "We've Been at This" to render at least two of the three songs superfluous.
Its uninspiring final portion notwithstanding, the first nine songs of This Too Shall Pass constitute an impressive, if somewhat short, album in their own right and, by themselves, are enough to give the record a most enthusiastic nod. To be sure, even its weakest tracks are far and away superior to anything Castady produced with his Showoff associates. Likewise, even at his most atonal, Castady delivers his vocals with a keenness and sincerity that largely make up for any key-related deficiencies. Blessed with a striking lyrical literacy and insight, imposing instrumental savvy and seemingly bottomless supply of youthful zeal, the Foldmen can rightly look with pride upon the freshman project and cast an optimistic eye toward those which lie ahead.