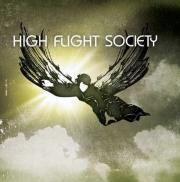 To say that the four men of High Flight Society have a longstanding association with both Christian music and each other would be something of an understatement. In fact, Scotty Lockridge's musical career got off to a rousing start at the tender young age of six when he pulled down the unlikely job of drummer at the local Church of God in Cedartown, Georgia, a small 10,000-resident town about 70 miles northwest of Atlanta. After honing his percussive proficiency for roughly a decade, Lockridge took the next logical step and entered his high school talent show with classmate Michael Packer, who taught himself the guitar just for the occasion. Not to be outdone, John Packer set about mastering the bass guitar and joined up with Lockridge and his elder sibling in the church worship band. After striking out on their own as a modern worship outfit, the firstborn Packer decided that the rigors of lead singerhood weren't for him and handed the proverbial microphone over to fellow Cedartownite, and avowed Southern Gospel aficionado, Jason Wilkes.
The good news for those not enamored with polyester-clad quartets is that Wilkes has ostensibly tucked his stash of Gold City LPs and Gaither Homecoming videos safely away before stepping into the studio to make the self-titled record. Indeed, the barreling guitar-driven leadoff song, "Time Is Running Out," and its equally invigorating follow-on cut, "Up Above," would leave those who didn't know any better thinking that the tracks came from a lost Anberlin album. The towering, anthemlike "Declaration," along those same lines, owes more than a little to the indie/emo aesthetic of the late, great Further Seems Forever's "Light Up Ahead." The most telling point of reference, though, is Wilkes' singing voice, which bears an uncannily close resemblance to that of Elms front man Owen Thomas – an artifact, perhaps, of the HFS collective having opened a myriad of tour dates in recent years for Thomas and his cohorts.
While the Society's impressive vocal and instrumental know-how, for the most part, do its influences proud, the band's lyric-writing skills are a decidedly different proposition. The ostensibly evangelical stance of "Time Is Running Out" (Let me show you more/ I'll take you in/ And show you where to start) is at least partially mired within its less than original language. "Up Above" (And we are young/ Up above the problems of their world), by comparison, is likely to strike more than a few listeners as smug. "Learn To Let Go" (I'll go find a better way/ Won't throw my dreams away/ Find a way to break away) and the aptly-titled "Loss for Words" sound like outtakes from an `80s teen movie soundtrack. And "Wake Up," (Put me in my place/ Persuade me/ Vindicate your reasons why), more than anything else, seems sure to leave the majority of those who hear it scratching their heads in bewilderment.
In fairness, though, the number of currently-operating rock and pop outfits who know their way around a writing pad and number two pencil as well as they do a fretboard or sequencer is hardly countless. And, to their credit, cuts like "Sweet Redeemer" (One last time/ Is one more lie/ That I tell myself/ As I'm giving in) and "I Will Follow You" (I found a place/ Where everything felt right/ Until now) prove that the High Flight men can be both poignant and perceptive when they so choose. Meanwhile, on the musical side of the coin, the soaring, arpeggio-laden adult alternative pop/rock gem, "Escaping," and equally excellent power ballad, "Get By," show what the group is capable of when they toss their faux Anberlin inclinations (which take up the better portion of the freshman project) to the wind.
The last two songs notwithstanding, the marked similarity between the bulk of the HFS cooperative's material and that of its inspirations edges the debut perilously close to superfluous territory. Even so, although the points of reference are certainly easy enough to pick out, the album itself is still a winning proposition. Much of this owes to the Society members' inherent musical aptitude – most notably the excellent lead guitar work of Michael Packer – and the tightness that has presumably come as a result of their lengthy alliance. In fact, one could make the case that the band's impressive instrumental know-how just about counterbalances its lyrical shortfalls. Either way, the self-named outing, while hardly a truly distinctive piece of work, is nonetheless graced with an energy and enthusiasm that are hard not to get swept up into.