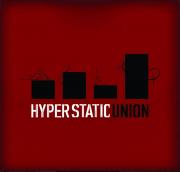 Another music festival July 16, 2005
[mood] jubilant
I went to a one-day music festival today with local and national bands. I was excited to hear a new band called Hyper Static Union. I saw them open for Third Day last month at an amusement park. I don't think they have a national record deal. They are from Washington State, so they are not a local band. I think they have a connection with Third Day since they played together on a few dates this summer. I was quite happy to hear the music again! It has been a long time since I have heard something new in the CCM scene. I guess you would describe HSU as a funk-jazz-blues-rock band. They sure don't sound like most of the new bands out there. It is refreshing!
Listening to new music April 17, 2006
[mood] disappointed
I picked up a pre-release of Hyper Static Union's upcoming release Lifegiver earlier this month when I interviewed the guys in Nashville. It turns out that Third Day does indeed have a relationship with HSU. The Atlanta boys started Consuming Fire Productions and chose HSU as their first client. HSU now has a national record deal with a new label RKT records, a branch of Rocketown records. I listened to the CD on my computer at work. I was a bit disappointed. The recording did not much resemble the talent I first heard live almost a year ago.
The title track opens the disc, and the music resembles a bit of what I recall from their live set. "Overhead" is the next track that wrestles with the struggles of listening to lies or serving God. The first time I heard the song was on RadioU a few weeks ago, I did not recognize it as HSU right away. Where is the funk beat? "Praying for Sunny Days" is the next track. The music seems to be more pop than funk rock. The same would go for the following cut, "Chariot." Perhaps those songs were written for the soccer mom crowd?
The funk sounding guitar intro of the next song, "Right Where You Want Me" had me excited that I had finally found the groove sound I recollected. However, the chorus loses the funk and rock. "Can't Leave it Alone" brings back the funk beat and demonstrates Shawn Lewis' strong vocals as well as the great harmonies of the back up vocals. Too bad the song is too short.
"Free Me" was a bit too mellow for me. So I skipped to "Child of His Grace." Here we have a reminder, "I am spared by mercy, child of His grace/Received into His favor despite my selfish ways." Shawn's vocal depth is again expressed here. Yet the music accompaniment seems to be lacking depth. The next song, "Good Fight" brings out Shawn's vocal ability even more. And the message of the song is a good one – "No single weapon formed against me will stand/Victory is ours, only One is in command." This song would have a better influence on me in a live setting.
I put the CD in my car stereo for the ride home from work, anticipating a better sound. There, I can turn the volume way up without a complaint from a neighboring office. While the sound was better, I still felt something was missing. The last track, "Now That It's Over" has a great bass line and certainly sounded better in my car, but I still could not recreate the energetic live experience.
Surprise at a concert April 28, 2006
[mood] hopeful
I was scanning tickets for the Building 429/Tait show tonight, and I heard music inside the venue that was not coming from either of those bands. I found out that Hyper Static Union was opening. I ran inside to listen. I saw these guys bring a crowd full of people to their feet. The audience, like me, did not know HSU was added to the line-up for the night. Yet the music fans instantly welcomed the energetic funk rock sound of the unknown band. This made me hopeful that the talent of Hyper Static Union is still alive. Maybe it can be captured on their sophomore album.