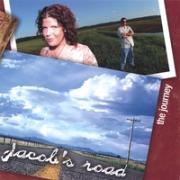 People talk of traveling through life on a road toward some distant destination. As Christians, our destination is Heaven, but the journey rarely seems short or easy. In fact, it is often fraught with disappointment and frustration. Fortunately for us, trusting in God's plan and His grace can make the path a little smoother. "What we believe makes a difference in our walk through life," says Mark Robey of Jacob's Road, whose debut album The Journey encompasses this important concept.
Robey co-founded Jacob's Road with Carrie Coffey in March of 2003, and yet they released their first album less than a year later. Such an unusually short incubation period for a new collaboration would generally lend itself to disaster. Instead, by relying on God for direction, this group has been swept up in a whirlwind that has their first song-writing venture, "I See You," already receiving both Christian and secular radio play.
Metaphorically, The Journey is more like a divided highway, with two distinct flavors to the album. Coffey, who lists as her influences Jennifer Knapp, Sarah MacLachlan, Indigo Girls, and Caedmon's Call, handles most of the lead vocal work. At times her voice is reminiscent of Alanis Morissette, as is the case on the opening track "Scream." However, it is more like that of Natalie Merchant in general; the aforementioned "I See You," in particular, sounds much like 10,000 Maniacs. Either way, she has the vocal talent to clearly express her depth of feeling for the lyrics, even occasionally breaking into falsetto.
On the other hand, Robey lists a diverse range of influences including Steven Curtis Chapman, Stryper, Mozart (Mozart?), and Jars of Clay. The breadth of this range creates a flavor unique to Robey, at least on the tracks where he has lead responsibilities: harder musically, but more straightforward lyrically. And while his voice is solid, it lacks some of the natural expression of Coffey's. Unfortunately, this disparity makes it fairly obvious that something is missing. On "I'm Yours," for example, Coffey's backup vocals overshadow Robey's lead.
The album's lyrics fit the idea of life's journey in that they discuss the trials encountered along the way. There is a tale of turning to God in the midst of desperation in "Escape." Longing to be with God is the topic of "Nothing." In "I'm Yours," an allegory to Peter's story of walking on water, Robey sings "half of me walks on the water / half of me walks on the shore / half of me stands here satisfied / the other half longs for more." All of the songs have messages with which we all can relate, though in at least one instance, that message is a little obscure. "You Ugly" is about the ugliness of our sin in God's eyes. But the lyrics, while delivered tongue-in-cheek, are hard to relate to the message. "you ugly / and your momma dresses you funny / that's all you ever heard when you were growin' up in school / sit in the corner / just keep your mouth shut / no one wants to hear a fool." Fortunately, Jacob's Road goes the extra mile in regards to the lyrics included in the disc jacket. Not only are the words printed, there is a section with notes on each song, including (in most cases) the passage of scripture from whence the message comes.
Music makes our daily road seem a little shorter, and sometimes smoother. This album serves as a reminder that inspiration can sometimes be found in different packages. A solid effort on the first try, I look forward to what the future holds on The Journey of Jacob's Road.