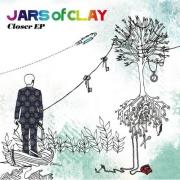 Jars of Clay is at it again.
After leaving their previous record label, the men of Jars are in the studio working on a new CD. To whet the appetite of their fans they have released an EP of songs to iTunes called Closer. When I heard the first song released, the title track "Closer", I was taken back by the lightheartedness of the song. Usually a Jars of Clay song is deep and multi-layered. They can be considered a "deep-thinking" man's band. Not that the casual listener won't like their music, but without much thought you really don't understand or grasp the full meaning of most of Jars of Clay's material. So listening to the casual, almost silliness of "Closer" had me wondering if I was hearing a new Jars of Clay.
The song has a catchy chorus even if the first lyrics are somewhat basic and elementary. At first listen, I didn't like it. But I held out criticism until I could hear the whole EP. I am glad I did. With every listen I like the first single more and more.  However it was love at first listen to the song "Safe To Land". WOW this is a powerful song. One that every person in love will wish that their mate had written to them. "I'm coming home if these wheels touch down / I'm coming home / I'm waking you up / in the middle of the night / I'm not giving up / I'm gonna stay until we make it work / We're not going down even if it gets worse / We'll work it out/ I need your light / guide me in / is it safe?" The band  reworked "Love Song for A Savior" and "Flood (New Rain)" in such a way that makes you want to listen to these songs again as if they were new. Rounding out the EP is "Prisoner of Hope". Yet another classic thought-provoking song that invokes true emotions in its listeners, "Let the wind run out of breath / make you bleed from the heart / and ache from the mind.... Fall into me / I'll turn your ashes into flames...Prisoner of hope it won't be long now / Prisoner of Hope you can be strong now / Prisoner I hope you carry on now / Prisoner your love can't be held down."
If this EP is indicative of what lies in store for Jars of Clay I'm glad that they are back at it. I'm looking forward to hearing these songs liveon the Music Builds Tour and anticipating the full release of their new CD due out in the Spring of '09 on their independent label Grey Matters. Jars of Clay has come home, and I think its safe for this EP to land. Closer is available on iTunes and will be available at their live shows.