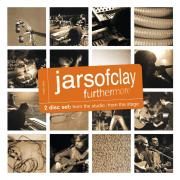 Time is a powerful weapon. It has the ability to tear down mountains, change youth into elderly, and sway even the sternest of opinions. Many people who say time is on their side are mistaken. Depending upon how we manage ourselves today, time can be either friend or foe. Whenever I look back at the young Jars of Clay from 1995, I like to think that time has treated them well. Not even out of college, their self-titled debut garnered both Christian and mainstream success, mostly in part to their quintessential smash hit, "Flood." As time carried them along, most mainstream audiences declared them another one-hit wonder when in fact their musical abilities gradually matured. Much Afraid, If I Left the Zoo, and The Eleventh Hour may never be as widely recognized or accepted as their first album, but together they bring identity to a band purely defined as art.
Not quite a new album, but not quite a greatest hits project either, Furthermore: From the Studio - From the Stage is a conglomeration of that art. This 2-disc collection sets out to rehash JoC's past while shading a vivid perception of their future, and it does so quite gracefully. Each track, old and new alike, contains vivid, fresh color and life. The From the Studio disc contains acoustic reincarnations of seven past favorites and introduces three previously unreleased cuts into the Jars of Clay montage. These tracks are more than just mere replicas of their former selves: they contain a raw, folksy energy that can only be described as if you were sitting with the guys in the studio. Nearly all songs stay true to the originals—with some minor tweaking here and there—except for the shocking facelift received by "Liquid." Lush strings form a symbiotic consonance with newly added keyboard accompaniment, making this version a more touching soliloquy than its electric predecessor. Of the unreleased tracks, "The Valley Song (Sing of Your Mercy)" is the most commendable. Similar to old school Caedmon's Call, this cut sports folk roots in spades and is one of the most worshipful tunes ever penned by the band (next to "Love Song for a Savior" and "Worlds Apart"). They don't spare artistic quality on the lyrics either: "Though the pain is an ocean / Tossing us around, around, around / You have calmed greater waters / Higher mountains have come down." The eerie "Dig" shows up as track six, but it pales in comparison to the glorious "Redemption" that follows. Using little more than two acoustic guitars, Dan Haseltine tells the story of a lost humanity searching for redemption in a world "of loss and love and fire and rain." Sadly, humanity knows where to look, but has yet to find it.
From the Stage, on the other hand, abandons folk and goes straight for all-out rock territory. The songs here are rich and vibrant, brimming out of control as opposed to the lazy feeling of the From the Studio disc. After all, these tracks were ripped straight from the 11Live concert DVD. Starting with the violin bridge from "Flood," a slightly heavier "Disappear" rocks the listener with intense electric guitar and an eclectic drum set. The process continues through familiar slammers such as "Revolution," "Crazy Times," and "Flood," all of which are more intense than their album versions, but Jars takes some time to show audience appreciation on "Like a Child" and "Flood," allowing the concert-goers to fill in on vocals when Dan decides to rest his vocal chords. Likewise, the gospel choir that sings backup on "I'm Alright" and "Revolution" provides a dynamic power for the show, and a ten-minute long "Worlds Apart" ends the CD in a stirring and worshipful fashion. Oddly enough, "The Eleventh Hour," one of the band's less brilliant works in my opinion, is the only track to make an appearance on both discs, bringing the total number of individual songs to twenty even.
Not every band shares the same humility that Jars of Clay has when it comes to success; the reason being that this is a band who fortunately realizes where their success comes from. And yet, it seems as if God isn't near finished using these guys. Only the passage of time will tell for sure, but I'm willing to bet Jars of Clay will be remembered for pouring every ounce of talent they have into their ministry. For the present hour though, Furthermore sums it up like this: Four well-received records, a massive fanbase, and a profusion of #1 singles…and they still have so much more to say.