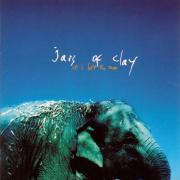 If I Left The Zoo, the much anticipated third release by Jars of Clay, is being hailed by some as the best album of the year, and with good reason. Jars of Clay has an ongoing record of unforgettable CDs, including the famous self-titled album that made the jars boys legends in the Christian music industry and the award-winning sophomore album, Much Afraid. Jars of Clay has continued their tradition of excellence with their latest CD, released on November 9, 1999. Jars claim that they tried to combine sounds from their first two albums and build on them to create new, solid music with variety. Their efforts are evident on the new project.
Since their sophomore release, many things have changed for Jars. Their former touring drummer, Scott Savage, has been replaced by Joe Porter (formerly of Plumb), while Ben Mize filled in as the drummer on this album. Dennis Herring (Counting Crows, Innocence Mission) contributed his experience as producer. Dan Haseltine, Matt Odmark, Stephen Mason and Charlie Lowell collaborated in writing the words and music for the eleven new songs on If I Left The Zoo. Jars fans will notice a change in style both lyrically and musically. Their charming voices, captivating melodies, and rocking guitar parts that we have all come to love are carried over to this album, but more keyboard, organ, accordion, and even a toy piano are included this time around. While the message remains the same, a playful tone is used in the songs. Fun extras like bells, whistles, and a soulful gospel choir also give the album an irresistible touch.
Ironically, "Goodbye, Goodnight" is the first track on the CD. While it is a fun, dance-like song, it alludes to "the beginning of the end" and suggests gloomy feelings. Still, it is one of the best tracks on the album. "Unforgetful You," the second song on the CD, has won much recognition for Jars of Clay lately. As the first single released, it has received heavy airplay on both Christian and secular radio, making it the tenth #1 single for Jars. Through its driving music and poetic words, "Collide" appeases the appetite of fans who have been hungering for a new rock song from Jars, while "No One Loves Me Like You," a more acoustic based song, draws in listeners with its uplifting and honest lyrics. If you attended a Jars of Clay concert this year, you probably heard "Famous Last Words," one of Jars' strongest songs to date. With its appealing melody, it is quickly becoming a favorite among fans. Track #6, "Sad Clown," is definitely one of the most memorable on the CD. Its incredible blues sound, a new style for Jars of Clay, is executed flawlessly. "Hand" is the next song on the Zoo. It is a somewhat simple song about trusting the Lord and putting your life in His hands. "I'm Alright" is a catchy, upbeat song that is full of energy and sure to make you smile, especially Dan's lively performance. The flow of the album continues with the next two tracks. "Grace" and "Can't Erase It" are both fast moving songs with similar themes. They deal with the need for God's mercy. The final song on the CD is "River Constantine." With a simple beauty and sincerity that is reminiscent of "Worlds Apart" on Jars of Clay's self-titled album, "River Constantine" is sure to become a classic.
It is not surprising that Jars were able to live up to the quality of their first two albums with If I Left The Zoo. It takes listeners on a non-stop journey of splendid music, leaving them spiritually enlightened and musically satisfied. Because of the variation of style from song to song and its laid back tone, this is a colorful CD that is sure to be enjoyed. If I Left The Zoo is nothing short of tasty!