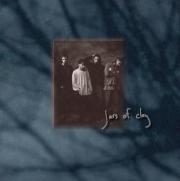 Back in 1995, the world fell in love with a fresh-out-of-college band who called themselves "Jars of Clay". Their first single, "Flood", smashed the Christian/mainstream radio barrier and set the standard for today's Christian music. Although the Jars' guys comment they had relatively low expectations at first, they were unaware that their self-titled debut would eventually sell over 2 million copies, gaining them a double-platinum status, more than any other Christian group or artist at the time. Who could forget the first time they heard Dan Haseltine's vocals, Matt Odmark's guitar, Stephen Mason's bass, and Charlie Lowell's keyboard? With a superior production job by the band themselves (with the exception of "Liquid and "Flood"), this is the album that made Jars of Clay a household name.
"Liquid", the opening track of the album, was an early Backstreet Boys-like pop tune that confused listeners with its gradual buzzing at the very beginning, causing many people to think their CD players were broken. Good things come to those who wait, however, and this song proved to be a GREAT thing for early fans. "Liquid" made Jars' purpose crystal clear from the very beginning, stating that "He didn't die for nothing". The next song, "Sinking" drew the point even further, showing people's ignorance to God's love and faithfulness. "Love Song for A Savior" was the band's second radio single, hitting #1 in no time. A beautiful ballad written for Jars' one true love, "Love Song..." is the most striking profession on this album of the band's love for Jesus. Track #4 on the debut was the lively "Like A Child", testifying to listeners about how having the faith of a child can work wonders "if you'll just follow and believe". Jars of Clay slowed things down with the next song, "Art In Me", a plea for everyone to see God's glorious handiwork made alive and perfect in every human being, regardless of how they may look on the outside. Psalm 27:10 best sums up the message of "He", Track #6: "Though my father and mother forsake me, the Lord will receive me". "He" is a simple yet imperative tune for all to see Christ's passionate love for us, while "Boy On A String", the next song, speeds things up with a vivid and jumpy fiddle chorus and metaphorically compares God to a puppeteer who has us at beck and call. "Flood", the band's very first single, is next on the album, with driving guitar melodies and a cry to God to save humanity from the ocean of sin we continually sink into. "Worlds Apart", a favorite still today among many Jars' fans, tells how in order to obey and follow God, we must first allow Him to "take our world apart", leave only Him behind, and let his mercy cover us. "Blind" is the final true song on the CD; a deep, gloomy tune that deals with denial of a supreme being and explains how people talk themselves out of believing in God. Jars' sums up that these people are indeed "Blind" and must let Jesus open their eyes. In addition to the standard ten songs on the album, Jars' fans can also hear "Four Seven", a hidden track immediately following "Blind" that is taken from 1 Corinthians 4:7 and explains how the group adopted their name: "We have this treasure in earthen vessels [Jars of Clay] to show that this all-surpassing power is from God and not from us." Although not a complete song, listeners will still enjoy the upbeat tune and chorus of "Yeah"'s on this track that was originally included only on the band's indie project, "Frail".
After almost 5 years, three albums, multiple awards and honors, and countless concerts, Jars of Clay has successfully won a place in the hearts of fans and listeners worldwide. The Jars' guys have come a long way in such a short time, and this is the album that started it all. A must have for anyone's CD collection.