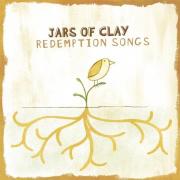 "Save the hymnals." When my eyes scrolled across those three words on the CD jacket of the latest Jars of Clay CD, they stopped. I read those words with joy. I agree.

My journey to Redemption Songs started about a year ago when I spoke with the Jars boys in Nashville. When I heard that they were working on a new project with a focus on hymns, I could not wait to hear the results. About a month later, I had the privilege of hearing a sampling of hymns played by Jars of Clay at an old church in Philadelphia as part of a One Campaign rally.

So when the CD came across my path, I eagerly opened it, placing it in the nearest player. Jars of Clay bridges the lyrics of older hymns and newer songs with modern arrangements that bring to life what at my church would sound like a funeral dirge. The familiar folk-based sound of Jars adapts well with the updated arrangements. And the accent of such instruments as cello, fiddle, and banjo added to the normal guitars and drums carry the songs to an even higher level.

Not only have they introduced an array of instruments to enhance the songs, but also a variety of vocals. Sarah Kelly imparts her strong voice to the bluesy sounding "I'll Fly Away" in a way I have never heard her before. Martin Smith of delirious? accompanies Dan Haseltine's voice on the sometimes U2-esque sounding "Let Us Love and Sing and Wonder." But my favorite boost to the Jars vocals is The Blind Boys of Alabama on the jazzed up "Nothing But the Blood" and the spiritual rendition of "On Jordan's Stormy Banks I Stand."

"It is Well With My Soul," however, has quickly become my repeat song for this project. I must have listened to it today five times in a row in the car on my way to a meeting. If Horatio Spafford could time travel into the year 2005 to hear the contemporary arrangement of the song that he wrote the lyrics, he would no doubt be-bop to the funk based arrangement.

The songs chosen for this project fit well with the theme of Redemption Songs. Some titles may be more familiar to you, some less. But the lyrics from many hymns are timeless, and should be incorporated more into church services. Jars of Clay had the right idea to bring hymns in the forefront.

Let's go back to the liner notes to nail down my point. "These are songs that carve out what we hope is a new tradition of church music. It is our sincere hope that in reaching back and listening to the words of these hymn writers we might find a renewed and refreshed perspective on who we are as a church today, where we have been going all along, and who we might be in the future."

In other words, save the hymnals.