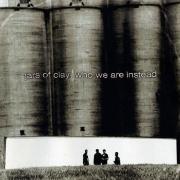 When referring to Jars of Clay fandom, you generally fall into one of three factions. First there are the Progressives, who believe that the band breaks intellectual ground, lyrically and musically, with each new album. On the opposing side we have the Regressives. These individuals believe that the world will officially end before Jars releases a better album than their self-titled debut. Last but not least there is the group to which I belong, the Aggressives. Our train of thought is that the best Jars of Clay album (Much Afraid, in my case) lies somewhere between the band's debut and whatever their latest release is, and we get ticked off at the other two factions for not realizing it. The only thing these three factions have in common is that they're all still devoted Jars of Clay fans. That is, until now. The band's fifth studio release, Who We Are Instead finally draws the battle lines: either you're loyal or you aren't. Choose your side.

If you're pondering what sparked the sudden civil war, it'd be to your advantage to know that most of the new material (especially "Lesser Things") was inspired by the late Johnny Cash. You see, there's a fine line between folk and country music, and Jars boldly ventures over it. Not too far, mind you, but you should at least know that the steel guitar is present. That's right, the cursed instrument that makes its presence known in songs about bars and ex-wives shows up predominantly in "Faith Enough," a mild-mannered lament based on a quote from A Farewell to Arms by Ernest Hemingway. Luckily, Ben Mize of Counting Crows fame steps in on drums (on "Sunny Days" and "Sing" as well), and his guest performance is enough to save the song from borderline mediocrity. Thankfully, "Faith Enough" is probably as southern as it gets; the majority of the remaining twelve tracks are masterfully equipped with strong acoustic performances all around and a greater emphasis on pushing Jars of Clay's folk roots. Prime example: "Trouble Is," a jittery bluegrass romp similar to cuts from the O Brother, Where Art Thou soundtrack. Upon first impression, it easily wins listeners courtesy of an energetic drum loop, but the real winner here is Kenny Meeks, who plays a more than decent mandolin and provides background vocals. It's a shame that "Trouble Is" is the only cameo he makes on the entire disc, but Jars invites guest artist Ashley Cleveland to assist them on the spirit-rejuvenating cut "Amazing Grace" as well as "Jealous Kind," undoubtedly one of the best Jars of Clay songs ever recorded. Steve Mason returns on the infamous steel guitar, but it's fortunately been muzzled to make way for Charlie Lowell's alluring piano recital. Haseltine's lulling vocals glide along smoothly, laying down lines about the unfaithfulness of the human race, until a Savage Garden-like interlude leads into an animated outbreak of the chorus, Gospel style. While Cleveland plays a bit part here, her raspy effect on the track's final thirty seconds is overall pleasant and warming. Finally, if you're reading this thinking, "Where's the Jars of Clay I used to know and love?" then fear not: remnants of the band's trademark sound are found on the disc's first single "Show You Love," "Sing," a pop-infused celebration containing a killer bass line, and the not-home-yet realization "My Heavenly," in which Lowell once again lets his brilliance shine from the piano.

Any longtime followers of Jars know that the band rarely comes up short on purposeful lyrics, and Who We Are Instead is no exception. While it may seem like a catch-all solution, deeper listening brings to mind the underlying themes of grace ("Amazing Grace," "Lesser Things") and, moreover, love. The theme of love itself is presented in several variations - first in "Only Alive," as Christ's love for us is presented as an allusion to a wedding: "So put me in the river / and let me say 'I do.'" Love is also incarnated as a human emotion during "I'm in the Way," except it's bundled with caring and compassion: "If you think that hope was left behind / I picked it up a mile ago / And I am running close behind / so don't give up and don't let go." Finally, in "Sing," we experience love the way it's meant to be: uninhibited praise and adoration towards God. That's not at all the last we hear about love on Who We Are Instead, but its presence is revealed more lightheartedly through the catchy "Sunny Days," the rally cry of "Show You Love," and the delicate refrain "Jesus' Blood Never Failed Me Yet," a dedication "to our brothers and sisters in Africa, who, though they suffer, overwhelm us with their life and their joy." At first it might seem unoriginal since it's essentially the same one or two lines repeated over and over, but the truth contained in those verses is so vital to our lives that you can't help but be moved by them. In fact, if there's merely one message that the band wished to convey through this record, it would have to be that Jesus's blood never failed us yet, and it never will.

How does Who We Are Instead fare amongst the three factions? For the Progressives, its undoubtedly the best Jars of Clay album yet. To the Regressives, mostly rock/pop purists, it's a letdown that should never have been allowed to leave the studio. And to the Aggressives, well... there's no telling. From an unbiased standpoint, however, Who We Are Instead is a delight to the ears. The artistry is leaps and bounds above The Eleventh Hour, and the old school Caedmon's Call sound suits the band well. Be warned though: it's not a rocker, and fans looking for Jars to come full circle with this release will have to wait a little longer. Even still, it would be a mistake not to pick this one up.