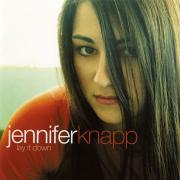 Not long ago she was just "a little white girl from Kansas" pouring her heart into songs that she played for close friends and church members. Today Jennifer Knapp enjoys the phenomenal success of her music that witnesses to people all over the world. She's not in Kansas anymore. No one expected the manner in which the Christian music industry would enthusiastically receive such a new comer, but Jennifer has managed to be no stranger to the spot light, receiving national acclaim and numerous awards, and landing a spot on the Lillith Fair Tour. Today, still very early into her career, she has two CDs under her belt, both entirely unique and edgy, yet as complimentary of each other as a right and left shoe. Her latest album, Lay It Down, follows in the footsteps of its predecessor, Kansas, breathing new life into the sometimes stale world of Christian alternative music.
From the first strum of the guitar, it is evident that Jennifer is back with the confidence of a professional. By the time of the CD's release, the first song, "A Little More," was already well-known by most of Jennifer's fans because of its heavy radio airplay and its early debut on Sparrow Records' Listen: Louder compilation. Just when her producers had a seemingly flawless cut of "A Little More" on their hands, they replaced it with a re-recorded version that seems to slip through the cracks. The version on Listen: Louder has clearer vocals, cleaner production, and a polished use of overlapping acoustic and electric guitars that shines. Still, the album cut maintains its status as one of Knapp's best, and from that point on the CD never slows. Jennifer goes out on a limb with the title track, "Lay It Down." It is a song of second chances that encourages souls to lay down sin before the Lord and be healed. It's sound might be surprising to listeners who were expecting to hear something more similar to the "Undo Me" type rock of her first album, but this one thrives with the earthy roots of classic folk-rock. Next, "Usher Me Down" combines music that is pleasingly simple (and lots of fun to play on the guitar, by the way) with an addicting melody. The driving force of the song is its lyrics that reflect on the majesty and wonder of our God. One of the best lines on the entire album, "I say here I am, You come / as if I ever had to call," sums up the theme of the CD and further proves Jennifer's outstanding capabilities as a song-writer. On to something totally different, "Into You" is the CD's first taste of music completely dominated by the electric guitar. It sheds light on the never-ending battle between the righteousness of God and the sinful things of the world. While the lyrics are a bit obscure at times, they tie into the theme, and the music that surrounds them is refreshing. Don't be surprised if you find yourself reaching for the repeat button. Track #5, "All Consuming Fire," embodies an unmistakable country sound. That might be bad news for some listeners, but it works well for Jennifer. It is her way of conveying humble thankfulness for the "alpha and omega, prince of peace." A song that fits Jennifer perfectly, "You Answer Me," depicts God's unshakable willingness to answer prayers. The music is deceptively slow at the beginning, but eventually explodes into the chorus. "You Remain," a suiting follow-up, is a bit slower and noticeably soulful in style. Jennifer's distinctive voice enhances the hymn-like structure of the song, which seems to be this album's equivalent to "Refine Me" on her Kansas album. She had help with the nest two tracks. #8 is an extremely tasteful cover of Shawn Colvin's "Diamond In The Rough." It begins with a hammering guitar and a fun blue-grass flavor that continues throughout. The lyrics seem like a scene from a dream, full of metaphors and interesting perspectives, while Jennifer's delivery is perfect, of course. Margaret Becker arranged and sang back ground vocals for #9, "When Nothing Satisfies You." This sweet tune features more hammering guitar and the epitome of typical Knapp poetry. And finally, "Peace" abounds. If the other songs haven't become permanently lodged in your head by now, this one certainly will. With its ear-tingling acoustic guitar instrumentation and its vocals that are beyond beautiful, this song is gracefully simple and full of truth—the perfect ending to a truly incredible project.
The words "hype" and "Jennifer Knapp" do not even belong in the same sentence. The depth of work is what every songwriter strives for, yet she seems to pull it off effortlessly. Jennifer has definitely found her niche with Lay It Down.