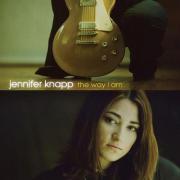 Jennifer Knapp is the undisputed queen of Christian rock, a fact which is proven once again with her latest album The Way I Am. In it Ms. Knapp serves up delicious songs that range from quiet to moody, soft to violent. Never one to settle for token hooks, she expresses herself freely in her lyrics which portray a woman who is strong but also one to whom insecurity is no stranger.
With her signature acoustic guitar, Jennifer starts this record with "By and By," an arresting song that brilliantly displays her musical talent and soulful voice. Such a song is a great opener - whetting an immense appetite for more. The title track is a poetic, heart-felt lamentation over the ugliness of human frailty. With almost angry tones she describes in vivid detail the way she views her shortcomings. "It's better off this way to be deaf, dumb and lame than to be the way I am..." This bitter sentiment is carried over into "In Two (The Lament)" Jennifer says that this song speaks of coming to a place of confession, but it seems to be more self-flagellation: "Have mercy on me I'm I girl/ though I'm cruel and you cry/ I won't shiver cause I know how to break a man... in two" A haunting French horn adds an even more morose tone to this sad tune.
Not all songs on this album are so depressing though. "Say Won't You Say" is a sweet cry for a deeper knowledge of our Father's love: "Say won't you say/ Say that you love me/ With love, ever love/ Love everlasting." A smile behind her voice gives this song an awesome touch. "Come to Me" offers peace from brutal surroundings: "Search the shadows only to find/ A dry and weary land/ All the while Oasis lies just one breath away/ ...Come to Me."
Taking you from misery to sweet bliss and repeating the trip, Jennifer Knapp has made another winner rather than repeating performances of past hits or covers of tunes from other artists, she offers strong songs that are new and imaginative. Take the journey and buy The Way I Am.