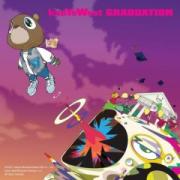 There comes an unfortunate moment in the career of many an artist when the music they create is largely irrelevant to the way they are publicly perceived. For better or worse, celebrity and not substance is this person's driving force, and it is not they, or the music-buying community, but the media who decide their ultimate fate. At this moment, they become more compelling as public figures than as musicians, and there is little they can do about it. Either this process will immortalize them (as with Elton John and the Rolling Stones) or it will swallow them whole (Michael Jackson, Britney Spears).
With the arrival of his third album, Graduation, Kanye West teeters on the edge of this chasm.
Already, he is hailed as the savior of the record industry, and is the most sought-after interview in the business. His visage dominates magazine racks, and his music is as ubiquitous as it can be, in light of its profanity. Yet to the general public, he is best-known for calling George Bush a racist, for being regularly drunk, and for throwing tantrums at awards shows. He appears on his way to realizing the dreams that "be wakin' [him] up at night," but not entirely because of his music. His celebrity threatens to overtake him.
Until now, it has been possible to defend Kanye on the basis of that which the public has ignored - important and indispensable songs like "Diamonds From Sierra Leone," "Through the Wire" and "Roses," or his production work for the likes of Common and Talib Kweli. His first two albums, though not without their faults, are among the best hip-hop records of this decade, and the second -Late Registration - now stands as a classic. Style and intellectual meat were found here in near-equal amounts, and betrayed an eloquence and cleverness often not matched by his peers.
The same cannot be said for much of what appears on Graduation, though nothing about the album is overwhelmingly bad. The odd, faux-futuristic sounds of "Stronger" are pleasant, and the brash honesty of "Can't Tell Me Nothing" appears to be heartfelt. "Everything I Am" is in a lyrical league that most superstar challengers cannot match. But there is no "Gold Digger" here, no "Jesus Walks," no "Hey Mama."
There is nothing, in fact, that matches the best offerings from The College Dropout or Late Registration on any level. His meditations on fame lack the poignancy and disenchantedness of the latter, and he stoops, as Paste magazine has hinted, to a misogynistic gutter with "Drunk and Hot Girls" that was once beneath him. "Barry Bonds" finds him pairing with much-hyped (but much overrated) spitter Lil' Wayne in a song that has little to say, and lacks a compelling non-lyrical reason to be revisited more than twice.
"Champion" is uplifting and catchy, but conceited in a way that the infinitely catchier and uplifting single "Touch the Sky" (from Registration) was not. "The Glory" is a genuine banger replete with the clever aphorisms for which West is known, but lacks soul, and does little more than solidify him as a "genius in praise of himself" (as Rolling Stone put it).
In the past, Kanye's braggadocio was justified, but it is only rarely so on Graduation. The album is not mediocre by most standards, but it is mediocre by West's, and while that says much about his clout as an artist, the fact it is far and away his most successful album to date says much about his place in the meat grinder of music stardom.
West has said in the past that he wants to be a crafter of classics, and that he wants to become the top artist in the world. Now he says he wants to be the McDonald's of music - the guy anyone will listen to, regardless of their economic situation or musical prejudices. He does not mean that he wants to water things down, or to make an inferior product in an attempt to appeal to the masses, but the metaphor is an interesting one. For with Graduation he may indeed serve billions, but he has lost his touch as a gourmet.
It is unlikely that West will someday find himself in such lowly states as Ms. Spears or Mr. Jackson, but he is already with them in this: he is less interesting these days as a musician than he is as a public figure. That, dear reader, is a crying shame.