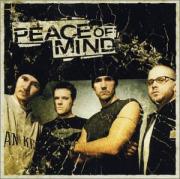 "KJ-52 doing rock?"
That is the question most are asking at the release of Peace of Mind, a side project of the popular Christian rapper. Peace of Mind is a fusion of rock, hip-hop, punk and reggae that brings together an all-star list of producers who draw from years of experience in the Christian industry.
Todd Collins, who has produced for KJ, John Reuben, Out of Eden and Sandtown, does the majority of the work behind the boards. Fresh from his work with tobyMac and Tait, Pete Stewart adds his skilled production as well as guitar and bass work for the album. Rick May, a drummer for Stewart and dc talk in the past, demonstrates his versatility in the various song styles. Finally, post-production genius F. Reid Shippen contributes his song writing ability to the project
The opening number "Turn It Up!" grabs the listener's ear with an electrifying guitar riff and intelligent tempo changes as KJ delivers humourous verses on his place in music. KJ's hip-hop vocals master the rock sound very well on the first few tracks. "Don't Ever Give Up" sees great guitar and bass interplay from Stewart, with honest storytelling from KJ. He taps into stories of pain including missing children and child abuse, while encouraging the listener to never give up. "I Am" is an edgy song with abrasive guitar lines and thundering drums that portrays Christ as the all-powerful God. A delightful change of pace comes with the upbeat "We Gon' Make It," as KJ tells the story of a divorce through a child's eyes. The programmed drums and soothing vocals of Todd Collins are the standout elements in this song.
The R&B influence is seen on "After All." This delicate tune is handled expertly by the musicians as KJ rhymes about God's work in his life. The band shows its skill with the sleeper hit "Scream." KJ rhymes over off-time drum lines from May about the struggles people face as they search for meaning in life. The soaring chorus contains a full blast of rock energy that compliments the hip-hop verses. This track is truly original art.
For the successes of the band in fusing these styles together, some experimental efforts are very disappointing. KJ's attempted reggae vocals on "Where You Gonna Go" and the punk rock laugher "Will You Go Out With Me" have no business being here, showing the band got lost out in left field. The "true" rapcore efforts ("Coming Soon" and "Crucify") don't measure up. "Coming Soon" is an apocalyptic vision where a half-hearted church member gets confronted with his sins that turns cheesy when it is revealed that it was "just a dream." "Crucify" is a decent attempt at describing Jesus' death, but the concept does not have the musical weight behind it for the song to fly.
Out of the ten songs, there are six worth listening to on a repeated basis. Yet there is a lot of promise shown by this band. Another effort would be appreciated, hopefully with a stronger rapcore effort, more rock songs and concepts that are not so clichéd.