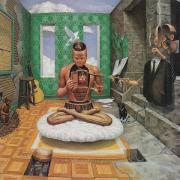 "Let me tell you why you are here," Reads Matthew 5:13a,15a "You're here to bring out the God-flavors of this earth...To be light, showing the God-colors in the world."
Sonny, Traa, Marcos, and Wuv of the band Payable On Death know the meaning of those verses. They also know nothing of conformity. Their hard rock sound have left those in CCM-land shaking their heads, and their uplifting, God-praising lyrics are bringing light to those in the mainstream market.
1999's album The Fundamental Elements of Southtown gave P.O.D. an unprecedented level of influence on America's youth. Named after the place of their childhood, (south San Diego) this album is worthy of the attention that it has caught.
"Rock the Party (Off the Hook)" topped the charts of MTV's Total Request Live. With scratchy turntables, loud guitars and that popular P.O.D. beat, this song became a hit in the mainstream, despite references to God such as: "We came here to rock this jam, and spread His love is the master plan."
A reggae sound adds an awesome twist to "Set Your Eyes to Zion." "I've begun to search for One, Giver of Life, and I recognize, to be with you, forever I'll be with you, in paradise, Zion I set my eyes." Oh, for that to become a theme among Americans!
Track ten is bit of a surprise. A rabbi reading Psalm 150 in Hebrew isn't something that one would expect on a hard rock album. But the soft sounds of Ran Yaniv's voice, melding with Marcos's guitar in the background is really cool. It should have been longer than those fifty-five all too short seconds.
"Tribal" is the definitive example of P.O.D. Using smashing drums and Sonny's rapid-fire lyrics, complacency is obliterated in this song. "Light this fire to flames, praise the name Jehovah Jireh is my provider--the truth that lives inside of this fighter." If you take the time to listen, and maybe grab the lyrics and read them, it gets inside you. It makes you want to stand up, link arms with them and go marching off into battle.
"Freestyle" is a very confusing song. "Freestyle, freak with the flava it's a sure shot, floss up the Ave. when the spot gets hot, still pay'n dues and knock 'em out the box" *?* Perhaps a translation is needed? Surely doesn't add much to the album.
Stick around after the last song...and behold! Southtown possess one of those beloved little hidden tracks. Completely instrumental, it really shows what P.O.D. are capable of as musicians. It's not to be missed.
If you don't mind an occasional drawn out scream, or a song or two that is somewhat less than understandable, get this album. Even if you don't buy it, keep an eye on these guys. There is an amazing fire that burns in them. Surely there will be much good from Payable on Death! Jah people ride on!