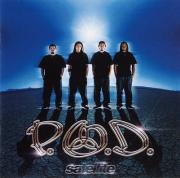 "One of the most important records of our time" is how Atlantic Records spokespeople describe Satellite, the latest album from hardcore supergroup P.O.D. Not only is it important, but it's one of this year's best, obtaining platinum status in just one month. Satellite goes above and beyond anything P.O.D. has ever released, as there's something for everyone on this disc, even for those who aren't fans of hardcore rock.
"Set It Off" is what brings the CD to life. Fans of P.O.D's last album, The Fundamental Elements of Southtown will be pleased with this similar-sounding song that adds some electronic elements. Sonny's rapping and screaming dominate as usual, but the band's musical prowess is not overshadowed. Similarly, "Boom" and "Masterpiece Conspiracy" follow along in that general direction, with "Boom" containing the more substance. A pleasant surprise on Satellite is that Sonny can also sing--amazingly well--as demonstrated on "Alive," the first single and an instant hit on both Christian and mainstream radio. "Alive" speaks P.O.D.'s message and purpose loud and clear: to share the Gospel of Jesus Christ and never turn their backs on Him, no matter how big they make it in the mainstream industry. Sonny also flexes his vocal muscle, as guitars blaze in the background on the title track, where he lifts up God as the all-seeing, all-knowing "Satellite." The band reveals the true loving nature of Jesus Christ in "Ghetto." "Anything Right" is yet another gem where Sonny alternates between harmony, rap, and his trademark yelling in addition to sharing an unforgettable statement about God's unyielding strength in our weaknesses. It is undoubtedly one of the best tracks on this record. On the two instrumental pieces on Satellite, Sonny steps back and gives the rest of the band their moments in the limelight, playing for the glory of God in both "Celestial" and "Guitarras de Amor."
Something new to P.O.D. fans will be the reggae-style tunes, such as "Ridiculous," in which Eek-A-Mouse of Jamaican fame makes a surprising cameo, and "Without Jah, Nothin'," which begins an entourage of screaming and a metal frenzy that is so loud that its barely audible, but mellows out to a major groove factor towards its end. Speaking of mellowing out, P.O.D. actually does so on two additional tracks; "Youth of the Nation" is an anthem in tribute to those who experienced the tragic high school shootings in Columbine and Jonesboro; "Thinking About Forever" is a very emotional outcry from Sonny to his mother now in Heaven. Both songs capture the intense mood of each situation and support faith in the Lord to heal all wounds. Finally, things pick back up with "Portrait," another surrealistically loud rocker that will have the most laid-back of fans moshing, and "The Messenjah," an absolute killer piece of music where the band realizes their important position in both Christian and mainstream markets and says they'll continue to proclaim Jesus Christ as Lord, "even if I die tonight."
Satellite's total of 15 tracks combine to make up P.O.D.'s greatest release to date, not to mention a top album choice for 2001. Even those who shy away from hardcore music will find something to smile about on Satellite since the band has gone out of their way to create a project that everyone can enjoy. Perhaps the most noteworthy acclamation, though, is that in the midst of all the hype this album gives total glory to our Lord and Savior. There's no better purpose than that.