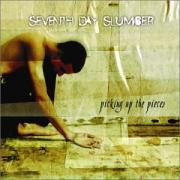 If you want to be a successful rock band by today's standards, normally you'd pick up a guitar, stick three of four of your buddies with instruments, and sing in a raspy voice about drugs, suicide, and sex addiction. Most bands on mainstream radio have already discovered this "ticket to stardom." Seventh Day Slumber, an avidly Christian band, appears not to deviate from the above formula-at first listen. Amidst the slamming guitars and stretched vocal chords, however, something ultimately different, something positive, stands out.
It could be because Seventh Day Slumber has "been there, done that" all before. Lead singer Joseph Rojas penned the emotionally driven track "Spiraling" about his battle with a drug addiction he had years ago. "I Know," the opener of Picking Up the Pieces, tackles the questions associated with contemplation of suicide and the selfishness involved with such a decision. A struggle with sexual abuse leading to stolen "Innocence" is the topic behind track #6, and in the next track, "More," the band makes it clear that physical appearance and social status has little bearing on what makes a person. All of these are challenges that each individual band member took on their road to Christianity. Unfortunately, when put into lyrical form, there's nothing artistic about them. In fact, shallow songwriting pervades every cut on the disc, from the simple chorus of "Candy"—"your love is like candy / like something I've never tasted before / you take me places / I never dreamed I could go"—to the anthemic, pleading refrain of "When the Children Cry"—"when the children cry / let 'em know we try / when the children sing / then the new world begins." In this case, though, art isn't the foremost concern of SDS; rather, relating to youth is, and that's perfectly acceptable. Don't be surprised if they find ways to reach young people that current "youth group bands" like the Supertones and Audio Adrenaline cannot.
Musically, Seventh Day Slumber rocks unoriginally, falling into the same category as mainstream hitters Creed, Lifehouse, and The Calling. Repetitive, somber chord progressions roll out assembly line-style from "I Know" and "My Struggle," while "Running Away" is the confrontational hard rocker of the bunch, complete with thrashing riffs and a tidal wave of drum pounding. "Innocence" follows the anti-Ritalin party, igniting an angry surge of metal and percussion as Rojas screams aloud about his violation. While "Spiraling" makes the welcome transition into organized, focused instrumentation, the title track, a simple admission of returning to Christ, captures enough emotion to make it the album's best track. The driving vocals and warm guitars convey a triumphant free spirit who has placed his utmost faith in our Lord and Saviour.
Seventh Day Slumber is a band that's going places, but definitely not for art's sake. If you're looking for a deep offering that leaves you picking your brain afterwards, Picking Up the Pieces is worthy of missing out on. If you want straightforward, in-your-face rock that points to Jesus Christ as the solution, then you'll certainly want to check out SDS, as most of their listeners would highly recommend. Because let's face it: sometimes art takes a back seat to experience.