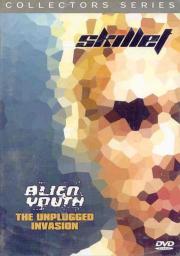 Rock. We need it, want it, love it. Our souls require the constant fusion of metal and electricity as fuel. Like an engine we consume it, down to the very last drop of pure adrenaline, until we are spent and then proceed to the next most convenient energy source. But what happens when you take the "rock" out of rock music? If crunchy guitars and torrential drum solos ceased to exist, could we still get by? It's in the face of these questions that Skillet cast aside their amps, pick up some acoustic stuff, and say, "Let's keep rocking."
In perhaps the only live concert video of its kind, Alien Youth: The Unplugged Invasion takes an industrial rock band out of their element and places them in a cozy, acoustic setting inside of Ardent Studios. Spanning a mere five songs - four from Alien Youth and one smash hit from Invincible - The Unplugged Invasion is just that: Skillet unplugged, doing their thing. All of the songs, "Alien Youth" especially, sound very tribal under an acoustic influence, but thanks to a very pregnant Korey Cooper on keyboard, we still get all of the electronic sound effects from Skillet's studio recordings. That's a good thing too, considering it wouldn't be Skillet without them.
The set begins with "Alien Youth," the #1 radio hit from the album of the same name. One of the first things viewers notice is how much John Cooper's voice stands out now; built for electronica, it doesn't fare well amidst the strumming and drumming, but it sinks in rather well during the more worshipful cuts "One Real Thing" and "You Are My Hope." "Kill Me, Heal Me," on the other hand, runs unplugged without a hitch, making for one high-voltage acoustic rocker. Lori Peters really sets the drums on fire during this one, and the guitar work from Ben Kasica and John Cooper cannot go unappreciated. Finally, a very edgy "Best Kept Secret" finishes off the all-too-short concert, making us wonder why Skillet didn't choose more acoustic friendly songs, such as the beautiful "Will You Be There (Falling Down)" or "Thirst is Taking Over." Either would have been ideal for this sort of performance, but the current set list is certainly no disappointment.
Among the special features littering the DVD are the "Best Kept Secret" music video (hey, where's the "Alien Youth" video?), a short Bible study featuring John Cooper explaining to some adolescents what it means to be an "alien youth," a photo gallery containing several stills of Skillet and crew members during the concert's production, and a discography featuring cover shots of all of the band's records to date. Add to that the live, unplugged set and for $5.99, you have yourself a killer piece of Skillet memorabilia. Hopefully, though, you'll come away with more than that. Alien Youth: The Unplugged Invasion serves as a window into the hearts of a band who has a passion for what they do, and an even greater passion for serving God. Skillet, rock on.