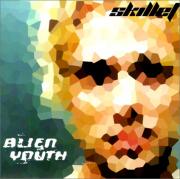 TARGET: Planet Earth
OBJECTIVE: Lost Souls
MISSION: Take them to our leader.
EARTH BE STRONGLY CAUTIONED. COME WITH US IF YOU WANT TO LIVE.
The invasion begins with the release of Skillet's fourth rock child, Alien Youth. Combine the hard, heavy style of Hey You, I Love Your Soul with the more techno-based Invincible and you have Skillet's most diverse and best album yet.
The title track serves as the hard rock anthem and opener for the CD. "Alien Youth" is a concept that John Cooper adapted from Hebrews 11:13, about how all who live by faith admit they are aliens and strangers on Earth. Cooper's theme for the album is that we as Christians need to take over the world with a passion and fire for God. The chorus of "Alien Youth" pretty much sums up Cooper's mission: "We're taking over the world, we're the alien youth. We're coming for your soul...we're gonna shake the world, we're the alien youth. We're taking over..." Not only is it profound, but it rocks! Listeners will notice that the guitars are much more prevalent on Alien Youth than any previous Skillet album. "Vapor" is a headbanging follow-up that doesn't disappoint, speaking on how finite life is and what a difference we can make in our short time here. Skillet then takes the Alien Youth concept further with "Earth Invasion," a more lackadaisical tune that resembles "I Trust You" from Invincible. Next comes the first ballad and contemporary radio single for the album, "You Are My Hope." It still leans toward a soft rock edge, and the addition of Korey Cooper's vocals in the background adds a wonderful harmony in this touching love song to God. Track #5 quickly satisfies the heavy metal appetite with "Eating Me Away," a fan favorite on the album due to its awesome lyrics and oh-so-perfect blend of electronic rock and techno sampling. "Kill Me Heal Me" begins before you can even tell that "Eating Me Away" is over. This time there are guitars all 'round; crunchy, electric, bass, you name it. Lori Peters's drum set also amazingly stands out in this song.
The second half of the CD brings out Skillet's more worshipful side with "Thirst Is Taking Over" and "One Real Thing." The latter sounds like a modern worship tune while "Thirst Is Taking Over" is your familiar Skillet rock song in slow motion. Things really heat up with "Stronger," track 9, an almost scary industrial cut that would give even Marilyn Manson chills. Simply put, "Stronger" rocks hard, with lyrics that make you want to play a rousing game of "Stomp Satan." Speaking of Marilyn Manson, "Rippin' Me Off," Alien Youth's next hard core track, was inspired when Cooper himself attended a Manson concert to see what the youth of America were being fed. Needless to say, it sounded something like: "You say Jesus is doing nothing. You say revolution took his place. There's no God that created the world, and no Savior for the human race," in which Cooper unashamedly responds, "You say God is dead but you're rippin' me off. You can't infect my mind with your vanity." What comes next may be the best Skillet ballad yet; "Will You Be There" is a superb duet blending John and Korey's stellar vocals. That, with tear-jerking, worshipful lyrics, makes "Will You Be There" sure to be a worn spot after running it through your CD player more than average. "Come My Way," also a ballad, although more mellow than its predecessor, will have listeners thinking, "What?? The end of the CD already?? It can't be!!" Never fear; Skillet is not one to disappoint. If you happened to be one of the lucky first 1,000 people to pre-order Alien Youth from Family Christian Stores, the band has thrown in a special limited edition CD with your worthwhile purchase. Not only is it signed by each Skillet member, but it includes two previously unreleased tracks and a short commentary by John Cooper on the meaning of "Alien Youth." The two additional songs are "Heaven In My Veins," a jumpy techno-tune that easily could have fit on the album, and "Always The Same" from the Invincible pre-release. As if all of this didn't have even the biggest Panheads salivating enough, pop the disc in your computer's CD-ROM drive and you can watch the "Alien Youth" video!
When it all comes down to a point, this album is FLAWLESS. Cooper and Co. have done everything perfectly this time around, giving them a tough challenge to top in the future and proving, once again, that Skillet IS the Christian rock band of the new millennium. Are you ready for the invasion? Pick up a copy of this album today. If not, we'll abduct you.