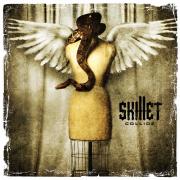 Let's rewind to September 2001. I was sitting in front of my laptop, much like I am now, typing up the review for Skillet's fourth album, Alien Youth. My goodness, what a grand album that was. I listened to it seventy-hundred times, salivated over it until my mouth was dry, and bought copies for all two of my friends. My closing comments went something like this: "When it all comes down to a point, this album is FLAWLESS. Cooper and Co. have done everything perfectly this time around, giving them a tough challenge to top in the future…" Yes, I remember it well. Then two years later Skillet had to go and release a project better than the one I previously reviewed. Dang it. Who'd have thought it would have been so easy?
Needless to say, if Alien Youth was the equivalent of an epic civil war between pirates and ninjas, then Collide throws sumo wrestlers and monkeys into the mix. Oh yeah, and they're all on fire now, too. Although only ten tracks long, Skillet's newfound vigor is amazing as they flesh every last bit of energy from each song. You'll notice the difference immediately as the opener, "Forsaken," makes any track from Alien Youth sound fledgling in comparison. John Cooper and Ben Kasica's guitar work melds tighter than ever while Lori Peters's quaking drums register an eleven on the Richter scale. Granted, Skillet's trademark industrial/techno edge has been forfeited, but the tradeoffs are worth it. Even the token "ballads" ("A Little More," "Under My Skin") are enhanced with more upbeat instruments and faster-paced melodies. Amidst the chaos, several rich orchestral arrangements (all pre-programmed, of course) add flavor to some already decent cuts - the most memorable being "Savior," the disc's first single. A surprisingly dominant string section precedes Skillet's usual violent eruption into full-scale metal before seething flawlessly into the motif. The title track takes this experiment further by introducing a full orchestral score playing alongside the band, and the results are overly successful. The eeriness that follows during "Fingernails" simply cannot be explained. My best guess is that the band has been playing a bit too much Silent Hill 2, as the otherworldly piano solo sounds like it's been ripped straight from the game. We'll forgive them though, since it's unmistakably the best song on the album: Cooper's vocals fly through various octaves, hitting highs and low perfectly before finally cutting loose with the ear-piercing Best... Scream.... Ever.... The rest of the band slams on behind him, pervading your nervous system with the urge to jump up and run into a wall several times; however, we don't necessarily recommend it.
While it's no doubt fascinating on a musical front, Collide marks a departure from Skillet's typical theme records. Alien Youth was clearly based on the Great Commission and geared towards the Church; Collide has no underlying theme and instead its lyrical content consists of several pressing topics that would speak mostly to non-believers. "Imperfection," for example, deals with the hurt that accompanies a poor self-esteem: "Tears falling down again / you fall on your knees / you beg, you plead / 'Can I be somebody else? For all the times I hate myself?'" Listeners who feel they're at the end of their rope can listen to "Under My Skin" and find solace in the fact that God's love is never too small - it extends to all who are willing to receive it. "Obsession" details human nature's tendency to set up idols in the form of worldly possessions and then corrects that fatal mistake with an unceasing addiction to God: "I thirst no longer / drenching my soul / pour out like water / you're my only infatuation." Skillet also breaks character with "Savior," playing the voice of Christ to soul searchers seeking to fill the empty void in their lives. Furthermore, while "A Little More" resembles yet another worship tune on the surface, Cooper actually confessed that it's the band's first love song between a man and a woman. For such an ambitious leap, the band clears it with ease, supplementing the absence of faith-based lyrics with poetic license: "Let the world crash / love can take it / love can take a little / love can give a little more." Let's hope it's not their last love song, either.
Two of the things we miss the most on Collide are 1) Korey Cooper's sublime keyboard performance and 2) the synth and electronica elements that define who Skillet is. Naturally, we can be more forgiving of Korey, who just gave birth to a daughter and understandably needs less time in the studio. Besides, she more than makes up for it with her tenure on guitar alongside her husband. The lack of any industrial synth though, is a shame, and while "Energy" features minimal techno spurts it pales compared to the programming involved on prior efforts. Still, Collide is at the top of its class. John Cooper's songwriting is at its creative best, Kasica and Peters are in top form, and the material is more engaging than ever. If Skillet could record a project containing the ambience of Invincible with the weight of this disc, it would go unmatched. Until then, expect to see Collide at the top of your CD rotation for quite some time.